Audibles at the Line: Super Bowl LV
Tampa Bay Buccaneers QB Tom Brady
Photo: USA Today Sports Images
compiled by Vincent Verhei
Each Sunday, the FO staff sends around emails about the games that each of us are watching. We share information about the games that the rest of the group might not be watching, ask questions, and keep everyone else informed about which games they might want to tune into (if they can).
On Monday, we compile a digest of those emails and produce this feature. By its nature, it can be disjointed and dissimilar to the other articles on the site.
While these emails are generally written with Audibles in mind, they do not represent a standard review of all the games each week. That means we aren't going to cover every game, or every important play. We watch the games that we, as fans, are interested in watching, so your favorite team's game might not be covered to your fullest desires or even at all. (If you are a Seahawks or Patriots fan, you are probably in luck; if you are a Lions fan, not so much.) We have no intention of adding new authors solely to cover every game on a given Sunday, nor will we watch a different game from the ones that we're personally interested in watching just to ensure that Audibles covers every game.
Tampa Bay Buccaneers 31 "at" Kansas City Chiefs 9
Aaron Schatz: It all comes down to this!

Tom Gower: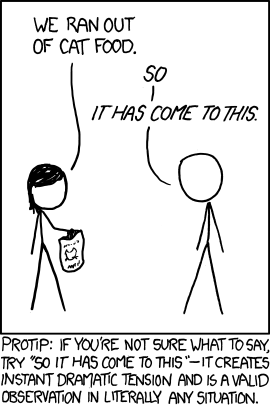 Vincent Verhei: "And there it is" also works.
Predictions? I'll go KC 31, TB 21.
Bryan Knowles: So, I've been somewhat out of it this week. This is just a one-on-one showdown between Tom Brady and Patrick Mahomes to determine 100% who is the best quarterback in NFL history, right? Or will the other Chiefs and Buccaneers get to play?
Aaron Schatz: My prediction at ESPN was Chiefs, 34-31.
Scott Spratt: Mine in the EdjSports video was 34-30, so it seemed like I was copying Aaron.
Rivers McCown: Keeping in mind that I have read nothing about football this week that hasn't involved a preacher/proxy owner so if I'm wrong I blame that, I would also take the Chiefs by a 30-28 score.
Bryan Knowles: Andrew and I both took Tampa Bay +3.5 in the Prop Bet Extravaganza, and I'm sticking with it.
Carl Yedor: I've only been half-watching the pregame but I hope Laurent Duvernay-Tardif gets a mention at some point on the broadcast since it's a natural football/medical field tie-in.
Also, what are everyone's thoughts on the CBS scorebug? I believe this is the debut for this iteration but I could be wrong.
Bryan Knowles: Carl, I'd like a solid black line between the various regions of the scorebug; the Bucs' flag blends into the Chiefs' color somewhat. But that is a nitpick, and we have seen far more disastrous scorebugs in recent years.
Carl Yedor: I'm personally more a fan of the one FOX introduced last year but I think the CBS one is generally fine. I think I'd prefer a slightly different font here and I was somewhat hoping for something with a little more spice.
Aaron Schatz: Bucs bringing pressure with four early. Play with a screwed-up line call ended up with nobody blocking Shaq Barrett. Mahomes did scramble on third-and-7 though for the one first down before the Chiefs had to punt!
Scott Spratt: The over 6.5 punts prop is looking dangerous after those first two series.
Bryan Knowles: We have already seen the big difference between Brady and Mahomes so far -- Mahomes, under pressure, has extended plays and scrambled for positive yards. Brady, at this point in his career, just has to kind of take the sack.
Puntapalooza continues, but it's early.
Aaron Schatz: I was trying to figure out how Tampa Bay had decided to cover Tyreek Hill and it looks like a lot of zones so far. They just blitzed two cornerbacks and had Antoine Winfield on Hill and Mahomes evaded the rush and launched it to him in the end zone and it bounced off his facemask. Chiefs kick a field goal, now up 3-0.
Bryan Knowles: It took 10 attempts, but Tom Brady has finally scored a touchdown in the first quarter of a Super Bowl. And was that ... an RPO to Rob Gronkowski? I don't recall the Buccaneers running many RPOs this season -- Pro Football Reference has them with just 14 during the regular season, and I certainly don't remember seeing one aimed for Gronk.
I'll take it, as I had Gronk +1600 to score the first touchdown of the game, mind you.
Aaron Schatz: Tampa Bay marched down the field pretty easily on that drive. Some good running by Ronald Jones and Leonard Fournette, some chunk plays. Loved the RPO to Gronk with Mike Evans blocking.
BRADY TO GRONK IN THE #SUPERBOWL

📺: #SBLV on CBS
📱: NFL app // Yahoo Sports app: https://t.co/HJtQf5igun pic.twitter.com/hjKIHWaYmE

— NFL (@NFL) February 8, 2021
Vincent Verhei: Thoughts on a surprisingly defensive first quarter:
Lots of punts -- lots of bad punts. The longest net was only 40 yards.
Chiefs offensive wounds have been somewhat self-inflicted. First third-down failure, Mahomes missed on open Mecole Hardman on the right side. Next drive, Hill had a pass bounce off his facemask near the goal line before they kicked their field goal.
Bucs have the lead but haven't hit a deep-deep ball yet. Longest catch was the curl by Antonio Brown for 16 yards.
Scott Spratt: Ronald Jones drop. I'm shocked.
Aaron Schatz: Chiefs immediately go three-and-out after a good kickoff return. Their offensive line is a real problem right now; Mahomes had two guys in his lap on third-and-4.
Bryan Knowles: I am stunned the Buccaneers did not run the Tom Brady sneak on fourth-and-inches at the goal line. Stunned. I think that's a stop and Chiefs' ball.
Aaron Schatz: I actually am shocked, but not by the drop. Tampa Bay was the best team in the league running in short yardage this year, Kansas City was the worst defense against short-yardage runs, and yet the Chiefs just stuffed the Bucs twice in a row at the goal line. Wow.
Bryan Knowles: The Chiefs might want to check the locker room for some Stickum at the half. They have had a number of big drops so far -- or at least, balls they could have, but haven't, caught.
Vincent Verhei: Another third-down gaffe for the Chiefs -- Mahomes makes a superhuman throw under pressure, but Kelce drops what should have been a conversion.
And then we get yet another lousy play by a punter as Tommy Townsend drops the snap. Townsend recovers the ball and actually gets his best punt of the day, but there's a hold on the Chiefs and we're going to punt again. AND THE NEXT PUNT SUCKS. Bucs starting inside the Kansas City 40! 42-yard difference between the two punts!
Scott Spratt: Oh man, that defensive holding call is just brutal for the Chiefs. It erases a beautiful Tyrann Mathieu interception. And honestly, that ball was out and deflected within a second and a half, so I don't even know how there was time for holding.
Aaron Schatz: And then offsides erases a Ryan Succop field goal and Brady throws a touchdown to Gronk on the next play. And Kansas City gets flagged on that play too, and it didn't even matter. Is Kansas City aware this game is counting?
Bryan Knowles: And then, they get a stop, but are offsides on the fourth-and-5 field goal, resulting in a new set of downs, and a second Gronk touchdown.
The Chiefs just keep shooting themselves in the foot, and the Bucs are taking advantage.
Vincent Verhei: Tyrann Mathieu interception wiped out by KC penalty. Field goal turns into a first-and-10 on a KC penalty. Bucs, given a THIRD chance on the drive, finally convert on a touchdown pass to Gronkowksi. 14-3 Bucs as the Chiefs are playing like hot garbage.
Bryan Knowles: One day, the Chiefs will just win a game outright without any nervousness, without falling behind or something. Today is not that day.
The Chiefs have four come-from-behind playoff victories in the last two seasons. That ties the league high from 2015 to 2020.
Aaron Schatz: Tampa Bay front four is winning this game so far. Just forced Mahomes to throw it away on third-and-4 in the red zone. The Bucs are putting a lot of defensive backs back -- they do not want to let the Chiefs go deep on them at all. And they're having trouble setting up even the underneath stuff because the offensive line is getting killed out there. Field goal by Harrison Butker and we're now at 14-6 with 1:01 left in the second quarter.
Scott Spratt: The Chiefs have committed seven penalties for 80 yards versus one for 5 yards for the Bucs. Given the Bucs' lack of discipline from the regular season, I think that's my biggest surprise of a surprising first half.
Andrew Potter: Pretty sure the offensive line is also affecting the play calling. We're just not seeing the Chiefs go deep into the bag of tricks like they usually would. They can't even hold up long enough to set up a screen.
Bryan Knowles: I think you're right, Andrew -- Kansas City doesn't look like Kansas City, because the Bucs' pass rush versus the Chiefs' backup offensive line is a mismatch.
Game's not over, mind you, but I think the Chiefs need to score on their first drive out of the half.
And we should note the record for penalties in a Super Bowl is 12, shared by the Cowboys in Super Bowl XII, the Panthers in Super Bowl XXXVIII (versus Brady!), and the Panthers again in Super Bowl 50. The record for penalty yards is 133, set by the Cowboys in Super Bowl V.
One of those teams (the XII Cowboys) actually did win, so all is not yet lost for Kansas City
Vincent Verhei: It's not just the number of penalties, it's how many extra chances they have given Tampa Bay. The Bucs have 18 first downs -- six of them have come on penalties. The Chiefs have just been playing so, so badly. And yet ... it's only 21-6. That's not good, but it's not insurmountable. And they get the ball to start the half. That goal-line stand has left Kansas City alive.
It's shocking how much Kansas City's offense, though, looks like a vintage Russell Wilson team. Every play they have made, he has had to scramble away from pressure to make a throw or a run. They had some success early in the half with designed rollouts to move him away from pressure. I'd like to see them go back to that more in the second half.
Bryan Knowles: Vince: I believe the previous record for first downs by penalty in a Super Bowl was four -- that's certainly the post-1999 record, at least, and it looks like no game before that broke that mark. Six in one half is crazy.
Aaron Schatz: If the Kansas City "flip the switch" theory is real, the first drive after halftime would be a good time for them to get a-flippin'.
Bryan Knowles: Check out Mahomes' first-half passing chart. Zero deep shots -- the Chiefs need to figure out some kind of way to buy him time to get his receivers downfield, because right now, the Bucs know that Kansas City just doesn't have time to go deep.
The Buccaneers aligned in two-high safety shells on 21 of 29 plays (72%) in the first half to take away the Chiefs downfield passing game.

Mahomes failed to complete any of his 4 passes traveling 10+ air yards in the first half.#SBLV | #ChiefsKingdom pic.twitter.com/eMxvl0yfh8

— Next Gen Stats (@NextGenStats) February 8, 2021
Aaron Schatz: Here are some stats from Next Gen Stats on just how much the Bucs are playing with their defensive backs deep and taking away the deep ball.
The Buccaneers aligned in two-high safety shells on 21 of 29 plays (72%) in the first half to take away the Chiefs' downfield passing game. Mahomes failed to complete any of his four passes traveling 10-plus air yards in the first half.
Tom Gower: Halftime, Bucs up 21-6.
The Chiefs game-planned like they were terrified of their offensive line against the Buccaneers defensive line, and, well, they were right. If not for Patrick Mahomes' ability to elude pressure and make second-reaction plays, this game wouldn't be remotely competitive. But in that alternate world, the Chiefs almost certainly wouldn't be here at all. As adjusted for circumstances, Mahomes did well to try to make plays, and the biggest real play completely killed by quick pressure was the third down before the second field goal. I wonder more about the early attempt to manufacture touches for Mecole Hardman (five first-half targets) rather than Travis Kelce (who took a couple ofdrives to get involved as the middle option in front of the two-deep) or Tyreek Hill.
Maybe just because of the way it happened, I thought the Chiefs defense was pretty OK in the first half. They got the early huge fourth-and-goal stop, an area where they have struggled this year. The second touchdown started in great field position and required a ridiculous (by before-today playoff standards) holding call to get any points at all, and a "why didn't we get a down-the-line shot?" offside penalty to get seven points instead of three. The third drive doesn't happen if Andy Reid doesn't call timeouts (plural -- the second one after the positive pass was simply an atrocious decision) and required some flag-happy officiating. Maybe they're getting run over after the early start, and Brady isn't getting pressured, but this is really a Ansas City offense-driven result through 30 minutes.

Aaron Schatz: Kansas City gets some nice gains on the ground on their first drive of the second half and then, ugh, Andy Reid kicks another field goal, this time on fourth-and-7 from the Kansas City 34. EdjSports model had that as a go for it by 1% GWC.
Bryan Knowles: I know counting the Chiefs out at any point is a fool's errand, but after the Buccaneers came out and marched right down the field, I think that might well be ballgame.
Kansas City will probably get on the scoreboard more, with 23 minutes left on the clock. But I have no trust in the Chiefs' defense to get anywhere near the needed number of stops.
Tom Gower: OK, that first Bucs drive of the second half and its hot-knife-through-butter nature was a sign that maybe the Chiefs defense is not good.
Vincent Verhei: There is not a projection system, forecast, or injury scenario that ever would have suggested the Bucs holding Mahomes to 114 passing yards through three quarters.
Aaron Schatz: Can Todd Bowles be the Super Bowl MVP?
I realize that the Chiefs have injuries on the offensive line, but four of these linemen started against Buffalo two weeks ago and they absolutely did not look like this.
Vincent Verhei: Well, a lot going on on that failed Chiefs red zone drive. Shaq Barrett has been eating Mike Remmers for lunch, but he wasn't rushing against Remmers there it was ... Vita Vea? Who has no played defensive tackle, edge rusher, tight end, and fullback tonight? Vea for MVP!
Regardless, Mahomes is running for his life on every play. Three straight snaps, he's scrambling back and forth for seven-plus seconds. Twice he nearly threw touchdowns anyway. The fourth-down incompletion may have been the best throw of his career:
omg Mahomes what pic.twitter.com/0Kbx5KRRTN

— Computer Cowboy (@benbbaldwin) February 8, 2021
— Mike Sando (@SandoNFL) February 8, 2021
Carl Yedor: I honestly don't have much of a takeaway for the Chiefs offense beyond 1) they're dropping passes/not making tough catches, and 2) their offensive line is a sieve. Mahomes has someone turned loose on seemingly every play, meaning he doesn't have time to go through progressions at all before scrambling for his life. The Bucs pass rush is putting on a clinic against Kansas City's depleted offensive line.
Vincent Verhei: Hey Scott, the Bucs just threw a deep pass on third-and-1 and then punted! They're driving you nuts on their way to a championship!
Scott Spratt: Haha Vince, I was just typing that! I guess Bruce Arians gets the last laugh.
Vincent Verhei: Twenty-two minutes later, the Bucs threw deep on third down and punted again, and there's really nothing else to talk about during the worst game of a pretty lousy postseason.
Aaron Schatz: I'm pretty sure that this will be the legendary, long-awaited Patrick Mahomes game below replacement level. Although you can't fault him. He made some amazing plays to get out of pressure and those passes turned into drops.
It turns out there was no flipping of the switch. It was just a good Kansas City team having two very good games, which happens all the time. Tampa Bay has been higher than Kansas City in DVOA since after Week 3 and I listened to all the criticism from the rest of the analytics community and doubted my own numbers. But the fact is, winning games close instead of winning them big does matter. In the long run, it does tell us something.
Bryan Knowles: Well, we can talk about Bruce Arians winning his first Super Bowl ring -- it's not quite as sweet for me as seeing Andy Reid win his last year (well, theoretically sweet -- I remain a 49ers fan, after all), but Arians is a football lifer and, by all accounts, a great guy who deserves every bit of this. And maybe after this performance, Todd Bowles will eventually get another chance to run a team, and maybe not the Jets this time!
Vincent Verhei: Mahomes has had negative DYAR once: in Week 17 of 2019 (in a win they needed to clinch home field, not a rest-the-starters game).
I'm also happy for Lavonte David. And hey, we now live in a world where Blaine Gabbert has a Super Bowl ring!
Tom Gower: This ended up a complete throughgoing butt-kicking, and not a lot to say. Didn't make for a bunch of Audibles conversation, especially with, say, me, sticking to my normal "watch the game and don't say much the first half" routine. The Chiefs needed to execute really well on offense in the second half, and the Bucs pass rush never got to the point the 49ers did in the fourth quarter of last year's game where they weren't getting enough to Mahomes that he had the chance to make plays downfield. And when he did have the chance to make plays, well, it would have been a more interesting game had the Chiefs players in the end zone caught the passes that hit them in the face. Or had Chiefs players made a contested catch, any contested catch, since I sure don't remember them doing so at any point in the game. But Buccaneers cover players won that matchup almost as badly as the defensive front won their matchup, and the team that struggled against good teams in the regular season gets to hoist a Lombardi.
Vincent Verhei: Watching some of the postgame, and Nate Burleson congratulated Byron Leftwich for running his usual offense, or something along those lines. I love Nate, but he's wrong there. They averaged 9.6 yards per catch tonight, 2 full yards below their season average. They totally changed their offense to attack the Chiefs' weaknesses, and it worked perfectly.
Rivers McCown: I think there are some iron-clad truths in football and the level of pass protection that Kansas City had in this game is just difficult to win with. Credit to the Bucs front four and the creative blitzes that dominated this game and had Mahomes throwing off his third and fourth adjustment all game. Kansas City couldn't find a screen around it, got too far behind to run on it, and that was about it.
Tom Gower: Oh, one more note from me: the Bucs offensive line was by and large terrific the last part of the season. After the big Frank Clark play early, the Chiefs got basically nothing from their pass rush. Brady ended up getting pressured four times on 30 dropbacks, the lowest pressure rate of any of his Super Bowls. And outside of the goal-to-go stop, the Bucs ran the ball pretty successfully.
Vincent Verhei: Mahomes, meanwhile, was pressured 29 times in 56 dropbacks.
I also like this graphic, showing each quarterback's movement out of the pocket (or lack thereof):
Here are the path's that Patrick Mahomes (top) and Tom Brady (bottom) took before pass attempts in shotgun during tonight's #SuperBowl

Red: complete
White: incomplete pic.twitter.com/TLFEOxzwhr

— Michael Lopez (@StatsbyLopez) February 8, 2021
Vincent Verhei: And now here's a great thread by Next Gen Stats on Tampa Bay's defense, and how they broke all their tendencies tonight.
How did Todd Bowles & Co. design the perfect defensive game plan to limit the big-play ability of Patrick Mahomes and the Chiefs' offense? A THREAD ⬇️

🔹 (I) Two-high safety shells
🔹 (II) Pressure w/o blitzing
🔹 (III) Take away the sidelines#SBLV | #GoBucs pic.twitter.com/BW4ruwwBkY

— Next Gen Stats (@NextGenStats) February 8, 2021
The Bucs won the Super Bowl by playing an entirely different brand of football than they had all season on both sides of the ball, and that's a huge credit to their coaching staff.