The Tampa Bay Buccaneers unveiled their new uniforms today, and man do they look familiar.
New but familiar 👇

📰: https://t.co/M5W4st2ed8 pic.twitter.com/q58oFF1E2P

— Tampa Bay Buccaneers (@Buccaneers) April 7, 2020
Allow us to show you the future 😏#GoBucs pic.twitter.com/naURTtwkZ3

— Tampa Bay Buccaneers (@Buccaneers) April 7, 2020
The pewter jersey/red pants home look and all-white road uniforms are very similar to the Warren Sapp-era uniforms Tampa Bay wore when they won the Super Bowl in the 2002 season. There is also an all-pewter Color Rush option (which is oxymoronic, kinda) that has different pewter pants than the standard kit.
Anyone else find it odd (disturbing?) the new #Buccaneers unis have two different sets of pewter pants (cc: @UniWatch) pic.twitter.com/pQgqA262A6

— Phil Hecken (@PhilHecken) April 7, 2020
And yes, Tom Brady's jersey is available in all three styles at the Bucs' team store:
#Bucs are now taking orders online.

Here's Tom Brady's jersey. @BN9 #GoBucs pic.twitter.com/UjJjMcWIvN

— CHRIS TORELLO (@TorelloSports) April 7, 2020
When Dave Bernreuther and I reviewed NFC South uniforms last year, he dubbed them the "Worst Uniform in all of Football." I wasn't a fan either. We both hated the alarm-clock look of the jersey numbers that made them very difficult to read. Just for the standard digits on the new threads, these are clearly a big improvement.
WEDNESDAY UPDATE: The Atlanta Falcons also unveiled new uniforms this week. You can find pictures of those here.
LATER WEDNESDAY UPDATE: The funny thing about the Falcons' uniform reveal is that this Tweet, which is still less than 24 hours old, announces that the uniforms would not be unveiled until April 14. However, leaks of the uniforms appeared online late last night, and apparently the team figured the cat (bird?) was out of the bag.
New day, new drip. pic.twitter.com/Lvc74QgJgh

— Atlanta Falcons (@AtlantaFalcons) April 8, 2020
The black and white jerseys and pants are fairly simple and straightforward. The numbers are oversized with a drop-shadow instead of a border, the striping is simplistic and minimal, and there's a very large "ATL" below the collar. The red pants are new, but they follow the same design scheme.
The red jersey, though...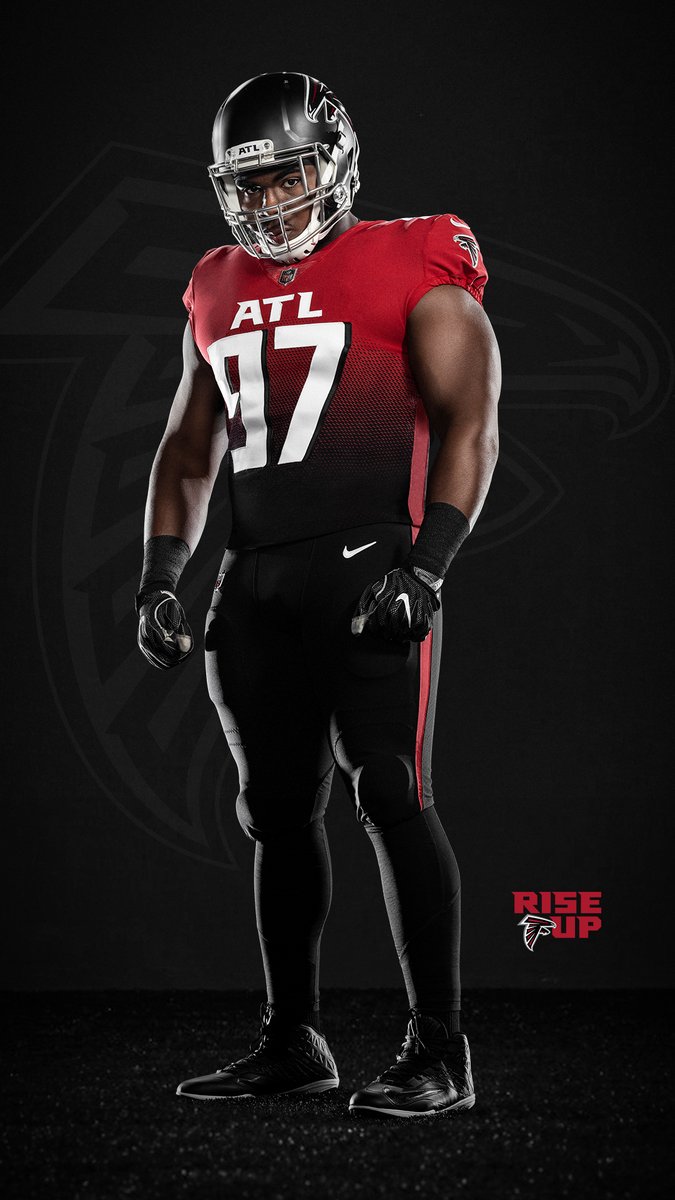 Yes, that is a gradient design that goes from red shoulders to black at the waistband. A first in the NFL.
There are subtle changes to the helmet:
Out with the old, in with the new… The @atlantafalcons will be debuting a new helmet design for the first time in 17 years on the field in 2020.#RiseUp X #RiddellDesign pic.twitter.com/4I7XlddiOM

— Riddell Sports (@RiddellSports) April 8, 2020
This video shows the new uniforms in motion, as well as shots of the back of the jerseys:
For our team.
Our fans.
⁰Our city. pic.twitter.com/15e5ZX6EtE

— Atlanta Falcons (@AtlantaFalcons) April 8, 2020