Film Room: Carolina Linebackers
by Derrik Klassen
New England and San Francisco are in a tier of their own with respect to defensive dominance. They are the only two teams with a pass defense DVOA of -60.0% or better, while no other team is even at -30.0%. Every quarterback that faces either of those two defenses turns into postseason Andy Dalton. Beyond the two juggernauts, however, is another tier, occupied exclusively by the Carolina Panthers.
Ron Rivera's defense through six games (Carolina had their bye in Week 7) currently sits in third place in pass defense DVOA at -25.5%. The next-best pass defense, Kansas City, is only at -9.5%. Carolina has given up just 5.65 yards per attempt and seven passing touchdowns while intercepting nine passes. In large part because of excellent pass defense, their drive success rate (.667) and yards per drive (26.18) rank sixth and fourth, respectively, with only the Patriots, 49ers, and Bills ranking above them in both categories. Carolina is an elite defense only being outclassed by two other squads that are on pace for all-time great seasons.
Dissecting what exactly makes the Panthers defense an elite unit could diverge in any number of directions. Their defensive line -- bolstered by the additions of free-agent signees Gerald McCoy and Bruce Irvin, as well as first-round pick Brian Burns -- has led the charge for Carolina; the Panthers are tied for second in adjusted sack rate at 9.4%. Cornerbacks James Bradberry, Donte Jackson, and Ross Cockrell have been outstanding, particularly Cockrell when taking into account the expectations for him coming into the year. The team's heavy usage of Cover-2 continues to be just creative and aggressive enough to rattle any quarterback ranging from Deshaun Watson to Jared Goff. But none of that is what we're here to talk about.
Carolina's linebackers are the glue. Luke Kuechly and Shaq Thompson headline a unit capable of handling assignments that only a select handful of other linebacker groups in the league can match. Seattle, San Francisco, and Chicago all come to mind as comparable corps, all because of what their linebackers can be asked to do in coverage and how that serves to enable the rest of the defense.
The unit's success, aside from star talent at the top, can be in part attributed to excellent coaching. Carolina's linebackers play with refined technique and a sharp understanding of how to pass off routes in zones or match coverages.
One aspect of playing coverage as a linebacker in the modern NFL is executing what Nick Saban calls "robot" (roll and run) technique. "Robot" technique is generally used as an answer to play-action. Since linebackers get sucked into the line of scrimmage, it's very hard for them to backpedal out to gain depth and find intermediate routes. So, rather than backpedal, linebackers are often taught to turn up the field to run while scanning the middle of the field for routes to pick up on. It's tough to execute because spacing correctly and finding targets can be a nightmare, but when practiced and executed properly, it's a clear deterrent for any half-decent quarterback.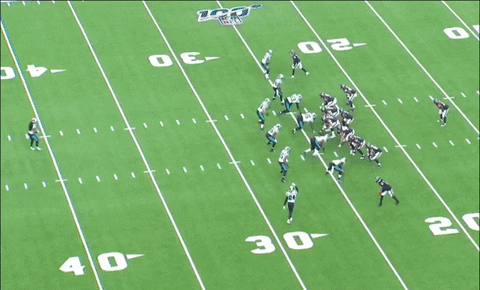 Here is Jermaine Carter (56) executing "robot" technique against Houston. Carter initially lines up over the left guard (Max Scharping, 74) and bites hard on the play-action fake. The moment Carter realizes it's a passing play, he jams his foot in the ground to take off and gain depth in the direction of Watson's rollout. Carter turns his head to the other side of the field while running to scan for any potential routes to pick up and finds an intermediate crosser. He then immediately looks to lock into the receiver's hip and run with him across the field to cut off any potential throwing lane. If even Carolina's non-stud linebackers can execute like this, it's no wonder Kuechly and Thompson can do it so well, too.
The Panthers also thrive in passing off routes to each other. Many zone or match coverages will ask a defender to carry a receiver to a certain point before passing them off to the next defender to handle. While every defense does this to some degree or another, it requires top-notch communication and a strong bond of trust to execute at a high-level.
Kuechly (59) and Thompson (54) have to be in sync to make this coverage work against Tampa Bay. Shortly after the play-fake, Kuechly recognizes that the tight end in front of him has crossed his face and is making his way to the other side of the field. Kuechly signals for Thompson to pick up the crosser, while Kuechly falls back to occupy the zone Thompson would then be vacating. Quarterback Jameis Winston believes that the middle of the field will be left open with Thompson matching the crosser, but he does not seem to notice Kuechly flowing into the area to fill the void. Winston ends up throwing the ball directly into Kuechly's hands well before it could reach wide receiver Mike Evans (13), who was covered well by James Bradberry (24) anyway.
Understanding how to get to specific landmarks and work leverages is a crucial skill for linebackers as well. Zone coverages generally require defenders to drop to a specific depth or area of the field and react from there. NFL teams, more so than college defenses (believe it or not), still spot-drop quite often in their zone coverages, so linebackers really have to be precise in how they move to close off passing windows.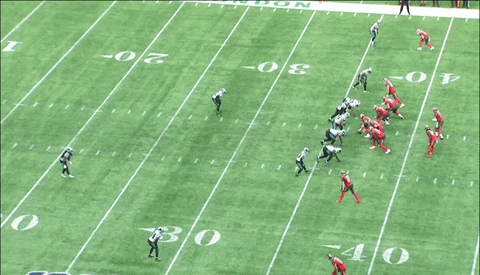 Thompson puts that skill on full display in this clip. Before the play begins, Thompson is walked up near the line of scrimmage as if he was going to blitz up the middle. He then peels off the line of scrimmage just before the snap, effectively switching spots with the nickelback, who ends up blitzing. This is a simple "creeper" concept -- something I've talked about in (what feels like) every defensive Film Room this season. Anyway, it's how Thompson gains depth from his line of scrimmage position that is impressive. Thompson backpedals at a brisk pace while fanning out just wide enough to be within arm's length of the tight end. Doing so squeezes the window to the slot receiver on the vertical stem and allows Thompson to play directly under any inside break, knowing that the safety over the top can take anything outside or vertical. Thompson and the safety keep the passing window slammed shut through the entirety of the route and force Winston to make a near-impossible throw, on which he does not connect.
All that being said, after a certain point, technique and coaching points can only do so much. Talent and athleticism are required in order for a linebacker to get away with taking on certain coverage assignments. Coaching can help a pedestrian athlete look like a Pro Bowl linebacker when covering assignments underneath or in short zones over the middle, but no amount of coaching can make a linebacker fast enough to carry a running back or tight end down the field.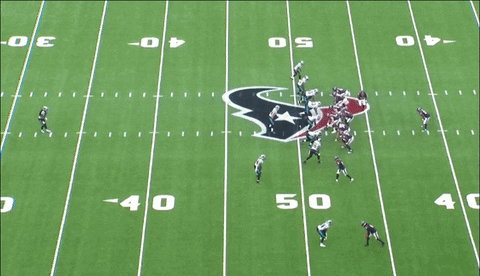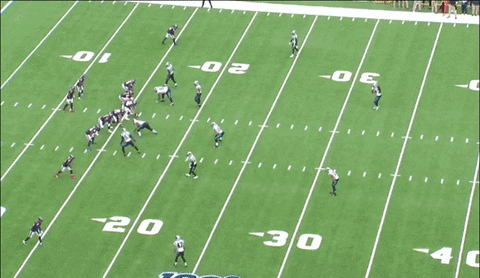 Kuechly (first play) and Thompson (second play) are both capable of carrying skill players deep down the sideline because they are excellent athletes. Kuechly's Mockdraftable radar looks like something only an alien could put up, and Thompson was a safety at the University of Washington before converting to linebacker. It takes a bit of savvy to understand how to take the right angle and work into the player's inside hip, but eventually vertical routes just become a foot race and Carolina's duo are plenty equipped for that.
Carrying receivers up the seam is more or less the same deal. The technique and landmarks are a bit different, of course, but the requirement of athleticism and a splash of veteran savvy are just the same.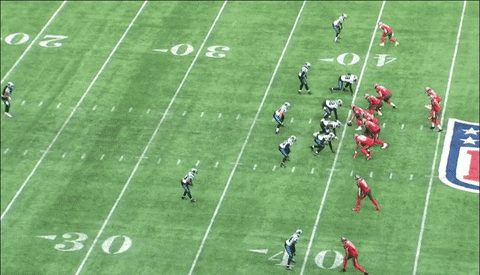 Kuechly has long been one of the best linebackers in the league at carrying tight ends up the seam. This is a prime example of how easy he makes it look. Kuechly, toward the bottom half of the screen, takes on the No. 3 (innermost) receiver to the trips side. He initially turns his hips directly to the outside so as to "wall" off the middle of the field from a potential crossing route, but the instant the receiver declares vertically, Kuechly reacts to carry up the seam. At no point in that play was Kuechly in danger of being beat over the top.
When the Panthers had a league-best defense in 2015, it was this same dynamic at linebacker that propelled them to that pedestal. Thomas Davis Sr. was playing alongside Kuechly at the time, but Davis was an elite coverage defender too, and arguably even better at tracking routes developing in the underneath area. It has been a staple of Rivera's defense since he took over in 2011.
For as long as Kuechly and Thompson are in the lineup, this Panthers defense will continue to be among the best in the league. Their talents maximize the defense from the inside out, and the entire operation hinges on what they can enable others to do. Kuechly and Thompson aren't quite Patrick Willis and Navarro Bowman, but their value to this Panthers defense is similar. With the linebackers leading the charge, Carolina's defense can take the team as far as its quarterback situation allows them to.