Most Recent FO Features
Is Kirk Cousins the best free-agent quarterback in recent memory? Should Trumaine Johnson or Malcolm Butler have gotten the larger contract? And what makes a free-agent contract good or bad, anyway?
Most Recent Extra Points
23 Dec 2016
The Week In Quotes: December 23, 2016
by Rob Eves
TEDGINNITIS
"There's a virus going round in Chicago. Adams seems to have caught it… or not caught it."
-- FOX color commentator John Lynch, using some choice words to describe the drop epidemic in the game between the Chicago Bears and the Green Bay Packers, as wide receiver Davante Adams dropped a second sure touchdown of the day. (FOX)
ANALOGY EARNS A 31.4 EFFICIENCY RATING
"No, I mean I've said it all along, how can they grade an offensive lineman when they don't know what the play is?… It's like me going into a bank and grading a teller because they gave me a lollipop. I gave them a 94.3… I mean, it depends on what lollipop. It was purple and I wanted red, but they did give you a lollipop. But I didn't know they weren't allowed to give purple out that day. So if I did know that I probably would have given them a higher grade, but I didn't know the information going in."
-- San Francisco 49ers head coach Chip Kelly, throwing some shots at Pro Football Focus and their grading methodology. (ESPN)
'GOOD'
"I mean, that was a gutsy call. Give coach credit, he made a change and it was for the good of the team. We benefited from it. Now we have three good quarterbacks and we are proud of all of them."
-- Houston Texans owner Bob McNair, acknowledging head coach Bill O'Brien's decision to bench $72 million quarterback Brock Osweiler for backup Tom Savage, who led the team to a 21-20 comeback win against the Jacksonville Jaguars last Sunday. (Houston Chronicle)
"We don't make decisions on how much a guy gets paid."
-- O'Brien, refusing to commit a sunk cost fallacy in light of the Texans' quarterback situation. (Ian Rapoport, NFL Network)
2016 IN A NUTSHELL
"I'm never clear on the NFL rules… Two pumps get you a baby. Three pumps get you a fine."
-- Seattle Seahawks defensive end Michael Bennett, remaining confused about the NFL's excessive celebration rules after being flagged for celebrating a sack against the Los Angeles Rams in a… suggestive manner. (Stephen Cohen, Seattle P-I)
COLTS' FAKE PUNT STILL WORSE
"All-time worst call ever."
-- Baltimore Ravens head coach John Harbaugh, fuming at offensive coordinator Marty Mornhinweg's decision to pass on first down leading 27-17 with six minutes to play against the Philadelphia Eagles. The play resulted in a pick and the Eagles almost came back to win, failing a last-second two-point attempt as the game finished 27-26. (ESPN)
LUCKY HE WASN'T HERE FOR THE REPLACEMENT REFS
"All I know is I started that drive with my mouthpiece on my helmet, I ended that drive and my mouthpiece was on their sideline. I'm not sure how that happens without getting called hands to the face but it did… Specifically I want to call out, I don't know his name, I don't really care for it, field judge No. 104 (line judge Dale Shaw), by far the worst official in the NFL. He needs to be fired 100 percent, terrible, terrible, terrible… (Shaw) may be a kin to Hopkins or something, I don't know. He's just a homer, I feel like the whole officiating crew, they were homers."
-- Jacksonville Jaguars rookie cornerback Jalen Ramsey, accusing line judge Dale Shaw and the rest of Ed Hochuli's officiating crew of home bias towards the Houston Texans during the Jags' loss. (Houston Chronicle)
GRACIOUS LOSER
"If you think Malcom Butler shut me down.. child please!! My 2 year old son Princeton can play cover 2. Go watch the tape. He know better!"
-- Denver Broncos wide receiver Emmanuel Sanders, who was held to three catches for 48 yards against the New England Patriots, rejecting the notion that Patriots cornerback Malcolm Butler kept him out of the game and suggesting that his child could have played the coverage equally well. In fact, Sanders was covered and outplayed by a number of different defenders. (Emmanuel Sanders, Twitter)

HOGWARTS?
"Ali Marpet … THE Hobart College."
-- Tampa Bay Buccaneers guard Ali Marpet, introducing himself on NBC's Sunday Night Football. (NBC, via MMQB)
BAH! HUMBUG!
"Yeah, I'd say that has been edited."
-- New England Patriots head coach Bill Belichick, reacting to a viral video that has been doing the rounds of him singing "Have Yourself A Merry Little Christmas" -- which, as it turns out, is in fact edited. (Patriots.com)
MEDIOCRE REPORTER
Moore: "What I don't quite understand is Darrell Bevell is calling plays and he thinks they're going to work and yet you think you maybe have a better handle of what should be called?…"
Sherman: "You don't want to go there. You do not. I'll ruin your career… I'll make sure you don't get your media pass anymore."
-- Seattle Seahawks cornerback Richard Sherman, getting personal with ESPN Seattle reporter Jim Moore during his Friday presser, after Moore pushed for answers about Sherman's disgruntled reaction to the Seahawks' offensive play calling in their win over the Los Angeles Rams last Thursday night. (KJR 950-AM, Seattle) (Stephen Cohen, Seattle P-I)
"Don't make me take y'all's credentials today."
-- Seahawks quarterback Russell Wilson, jokingly parodying Sherman's comments. (NBC Sports)
THE WEEK IN GIFS, PICS & TWEETS
IS THIS REAL LIFE?
In the old days, this kind of nightmare front page headline error would cause publishers to order papers pulled out of newspaper boxes... pic.twitter.com/C5oQinteUq

— Chad Livengood (@ChadLivengood) December 19, 2016
-- Western Michigan newspapers, mistaking the Detroit Lions' Week 15 opponent for the Dallas Cowboys. The Lions were actually "roped" by the New York Giants, 17-6.
PLAYS WITH 1999 TITANS, GOES 6-10
Jeff Fisher on coaching future: "I want a chance to play the Rams."https://t.co/DkrOAmlVN3 pic.twitter.com/US87dqXjmg

— Bleacher Report (@BleacherReport) December 16, 2016
-- Fired Los Angeles coach Jeff Fisher, saying that he would love a chance to coach against the Rams someday.
We'll send him a copy of #Madden17. https://t.co/hcVYLT5Pbg

— EA SPORTS Madden NFL (@EAMaddenNFL) December 17, 2016
-- EA Sports, offering Fisher what will likely be his only chance to coach against the Rams someday.
I'VE GOT A BAD FEELING ABOUT THIS…
In case you were wondering, lasers do melt cheese. #RogueOne #GBvsCHI pic.twitter.com/PvAhjHKddn

— Chicago Bears (@ChicagoBears) December 16, 2016
-- The Chicago Bears' Twitter marketing team, having too much time on their hands.
SO VERY BROWNS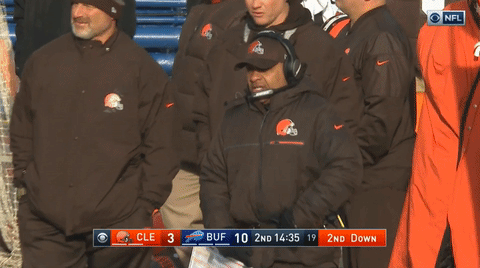 -- Cleveland Browns head coach Hue Jackson, struggling to find his challenge flag during the second quarter of the Browns' 33-13 loss to the Buffalo Bills, in which quarterback Robert Griffin III was ruled out of bounds before throwing the ball away. The play was not reviewable anyway, naturally.
STRIKE!
-- Washington quarterback Kirk Cousins, connecting with a cheerleader on the sidelines (who diligently made no attempt to get out of the way), after getting shoved out of bounds by Carolina Panthers defensive tackle Kawann Short during the Monday Night Football game between the two teams.
LOL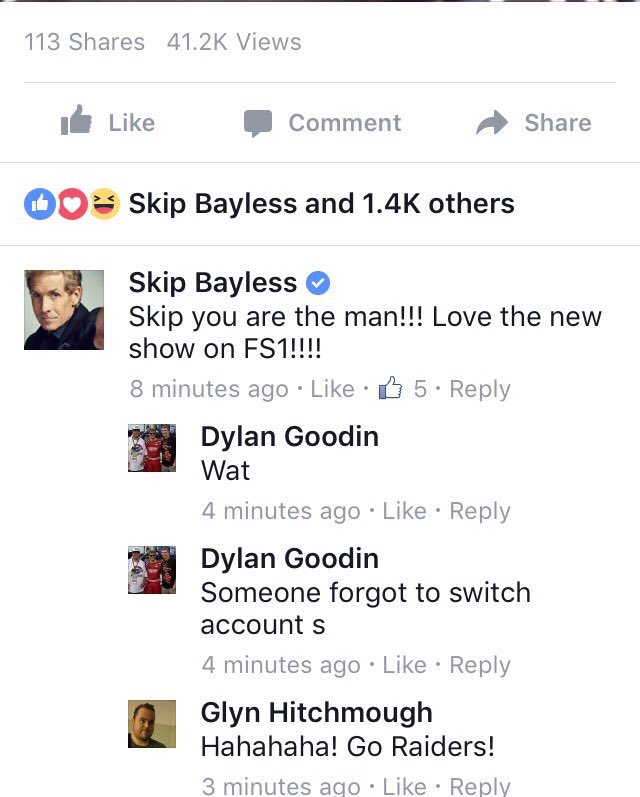 -- FOX Sports presenter Skip Bayless, forgetting to switch to one of his (probably numerous) fake accounts before delivering some faux praise to himself over Facebook.
TOO MUCH TIME AROUND LE'VEON BELL
"Random" drug test pic.twitter.com/GaZ5lOfb0e

— Chris Boswell (@WizardOfBoz09) December 21, 2016
-- Pittsburgh Steelers kicker Chris Boswell, noting the apt timing for a league-mandated random drug test after kicking six field goals against the Cincinnati Bengals on Sunday. Incidentally this isn't the first time that a kicker has been tested after an unusually good performance this season, with Indianapolis Colts punter Pat McAfee tested after hitting a 67-yard punt back in the preseason.
THE ONLY RIVALRY MORE HEATED THAN THE FAMILY MONOPOLY GAME
From our family to yours. pic.twitter.com/NOMoE5Tn8x

— Baltimore Ravens (@Ravens) December 20, 2016
-- The Baltimore Ravens, wishing happy holidays to their best buddies, the Pittsburgh Steelers. The two teams face each other on Christmas day.
"It's going to be joy. Not a lot of peace. Somebody's going to come out a victor, somebody's going to come out a loser… All of our AFC North games are pretty physical. There's a professional hate with each other. The Pittsburgh-Ravens rivalry is pretty fierce, pretty intense, hard-hitting. It's been that way for a long time. Our fans hate them. Their fans hate us. It's a great divorce."
-- Ravens wide receiver Steve Smith Sr., dressed as an elf, looking forward to the game. (CSN Mid Atlantic)
11 comments, Last at 24 Dec 2016, 10:01pm by Raiderjoe