Most Recent FO Features
Is Kirk Cousins the best free-agent quarterback in recent memory? Should Trumaine Johnson or Malcolm Butler have gotten the larger contract? And what makes a free-agent contract good or bad, anyway?
Most Recent Extra Points
09 Dec 2016
The Week In Quotes: December 9, 2016
by Rob Eves
UNDERSTATEMENT OF THE CENTURY
"I've had a few wins in my career, as well. I've also been able to be very, very fortunate and [had] a long career. You can look at it as is the glass half full or half empty -- I look at it as half full. I'm just honored that I still have an opportunity to coach in this league."
-- Los Angeles Rams head coach Jeff Fisher, celebrating his new contract extension as he approaches the all-time coaching losses record and locks up his fifth straight season at .500 or worse.
"Coaches, we don't like making excuses, we just move on from week to week to week… We didn't have [Robert Quinn] yesterday, we didn't have Tavon Austin, we didn't have Rodger Saffold yesterday and we played the New England Patriots. If you're going to have a chance to beat them, you need to go in there with all hands on deck."
-- Fisher, stoically refusing to make more than four excuses for the Rams' loss to the New England Patriots. (NBC Pro Football Talk)
NO THANKS
"He's had five years, five years of losing, enough is enough… I asked him, 'where the naked pictures at?'… He must have got something on someone because five years is enough… you can't subject all the Rams fans to another year."
-- Former L.A. Rams running back Eric Dickerson, recounting asking current Rams COO Kevin Demoff if Fisher will be back for another season. (Colin Cowherd, Twitter)
TIME FOR A RANDOM DRUG TEST
"It's top secret. For now, you guys call me Ronald… It's my new name. Ronald. For now, call me Ronald."
-- Pittsburgh Steelers wide receiver Antonio Brown, insisting for some reason on being addressed as "Ronald" in his presser last Friday. (Jeremy Fowler, ESPN)
STAND BACK!
"I feel like we're very close to exploding as an offense."
-- Houston Texans quarterback Brock Osweiler, feeling confident about his ability to lead the team's offense heading into the final stretch of the season, after the Texans suffered a 24-13 loss on the road to the Green Bay Packers. (ESPN)
SO IS VINNY TESTAVERDE
"One day the kids will be proud of old pops… He's in a rap song."
-- Dallas Cowboys tight end Jason Witten, alluding to the new A Tribe Called Quest track "We The People…" in which he's mentioned, alongside former starting quarterback Tony Romo. (ESPN)
OH FIDDLESTICKS
"It's a lot worse than, 'Oh darn.'"
-- Atlanta Falcons quarterback Matt Ryan, explaining what was going through his head when Kansas City Chiefs safety Eric Berry intercepted him for a late two-point defensive conversion as the Chiefs won 29-28 at the Georgia Dome. (MMQB)
CRIMES OF FASHION
"Well, when (you're) 6-foot-5, trying to get a shirt. I was away from home for a week. I didn't pack a shirt. It was a lot of ties that I was given, but I can't wear a tie with this (a black turtleneck)."
-- Carolina Panthers quarterback Cam Newton, excusing his violation of team dress code policies and missing the opening snap of the Panthers' 40-7 loss to the Seattle Seahawks on Sunday night as punishment. (Seattle Times)
I WONDER WHY?
"First of all, I don't have that many friends."
-- Arizona Cardinals head coach Bruce Arians, dismissing reports citing Arians' "friends" as saying that he plans to retire after this season. (Kent Somers, Twitter)
"Try to throw it to my team and not theirs."
-- Jacksonville Jaguars quarterback Blake Bortles, outlining his plan to avoid so many interceptions for the rest of the season. (Matthew Coller, ESPN)

THEY UNDERSTAND THAT LOSING IS BAD
"They booed us yesterday. They don't understand a damn thing."
-- Jacksonville Jaguars wide receiver Allen Robinson, lashing out at fans for booing the 2-10 Jags. (Sports Illustrated)
THROWING SHADE, MANNING STYLE
"They haven't lost since the first game. I think I remember who beat them that game."
--New York Giants quarterback Eli Manning, subtly reminding everyone that he and his teammates were the last club to beat Dallas, their opponents on Sunday Night Football this week, before the Cowboys went on their current 11-game winning streak. (Pat Leonard, NY Daily News)
EVEN MIKE ZIMMER CAN SEE IT
"Everyone can see it. Stevie Wonder can see it."
-- Giants wide receiver Odell Beckham Jr., complaining about the standard of officiating during the Giants' 24-14 loss to the Pittsburgh Steelers. (Pat Leonard, NY Daily News)
IT'S JUST A GAME COACH
"It was a tough loss… But as Sir Andrew said: 'Fight on me men… I'm a little hurt but not slain. I'll lay down and bleed a while, but I'll rise to fight again.'"
-- Michigan Wolverines coach Jim Harbaugh, quoting The Ballad of Sir Andrew Barton as the Wolverines look for motivation for their December 30 Orange Bowl game against Florida State, after missing out on the College Football Playoff and a shot at the Big Ten title with a 30-27 loss to Ohio State. (Detroit Free Press)

BLESS THEIR PARENTS
"I love (Jim Bob Cooter's) name… He and Captain Munnerlyn. I recruited Captain way back when I was in Carolina. Those two are right up there, player and coach. But I love saying Jim Bob's name."
-- Chicago Bears head coach John Fox, enjoying the names of Detroit Lions offensive coordinator Jim Bob Cooter and Minnesota Vikings cornerback Captain Munnerlyn. (Detroit Free Press)
THE MOST EXCITING MOMENT ON MONDAY NIGHT
Boomer Esiason: "Well that was the biggest cheer of the night as we got a couple of idiots running out on the field right now. Taking their shirts off, running all over the place and the last person I would want to run into is a New Jersey state trooper."
Kevin Harlan: "OOOOOOOHHHHHHH! Did you see that tackle? OH! and the other guy is knocked down!"
Esiason: "They're actually hitting harder than the Jets defense. I'll tell you that one kid may be just absolutely knocked out on the 26-yard line."
Harlan: "What a hit."
Esiason: "And that was just a unbelievable hit by a New Jersey state trooper who came in right behind him. Don't be messing with the state troopers man, I'm telling you."
-- Westwood One Sports announcers Boomer Esiason and Kevin Harlan, juicing up the coverage on the Monday Night tilt between the Indianapolis Colts and the New York Jets as a pair of streakers invaded the field late in the Colts' blowout win. (SB Nation)

THE WEEK IN GIFS, PICS & TWEETS!
PHOTOBOMB
-- An NFL official grabs a quick selfie during the Kansas City Chiefs' 29-28 win over the Atlanta Falcons.
I'M SEEING DOUBLE -- FOUR PATRICIAS!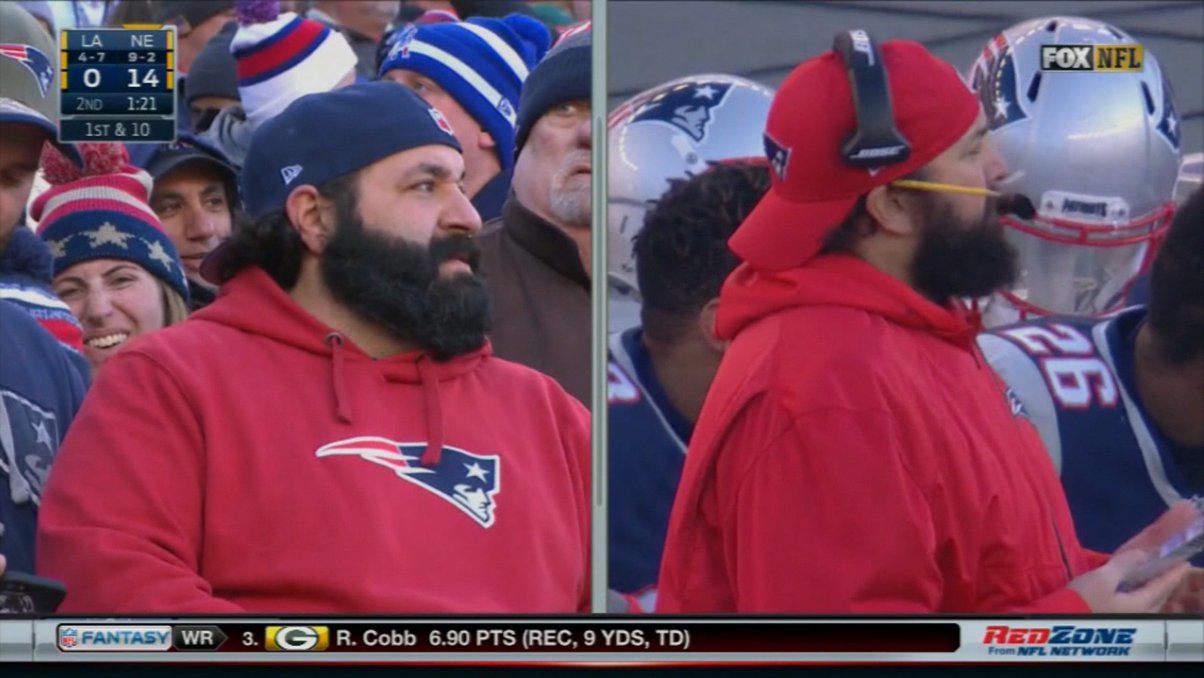 -- From left to right; New England Patriots defensive coordinator Matt Patricia on the sidelines during the Patriots' 26-10 win over the L.A. Rams, and a lookalike fan spotted in the stands.
WORTHY CAUSE
Dorial Green-Beckham is wearing Yeezy cleats today for, in his words, the "Yeezy Foundation." Talk about #CleatsForACause pic.twitter.com/iRYxysJavT

— Eliot Shorr-Parks (@EliotShorrParks) December 4, 2016
META
-- Oakland Raiders punter Marquette King, celebrating by throwing down a penalty flag after earning a roughing the punter call against the Buffalo Bills… which earned him a penalty flag for unsportsmanlike conduct.
COLLEGE FOOTBALL FAILED INNOVATION OF THE WEEK
-- The Clemson Tigers attempting an ambitious 11-man coverage scheme on a routine third-and-9 against Virginia Tech. The Hokies went on to score a touchdown on the drive, although Clemson eventually won out 42-35.
SICK NOTE
That awkward request to get out of work early on Thursday? Yeah, Coach Reid has you covered. #TNF #OAKvsKC pic.twitter.com/ge9uT57J2d

— Kansas City Chiefs (@Chiefs) December 7, 2016
THERE IS ONLY SO MUCH SIERRA NEVADA YOU CAN GET ON A PLANE
Announcement on flight to Kansas City congratulates the entire aircraft for wiping them completely out of booze. Yep, it's a Raiders flight.

— Jimmy Durkin (@Jimmy_Durkin) December 7, 2016
31 comments, Last at 12 Dec 2016, 10:32pm by LionInAZ