Most Recent FO Features
Defenses have taken a wide variety of responses to the rise of 11 personnel. Is any one system better than another? And how has the rise of the "moneybacker" changed defensive philosophy?
Most Recent Extra Points
18 Nov 2016
The Week In Quotes: November 18, 2016
by Rob Eves
YOU COULD DRIVE A RACE OF PEOPLE THROUGH THERE
"It parted like the Red Sea. All I had to do was run."
-- Dallas Cowboys running back Ezekiel Elliott, describing his 32-yard game-winning touchdown against the Pittsburgh Steelers, helping to earn the Cowboys a 35-30 victory. (David Helman, DallasCowboys.com)
OK, THE RED SEA FORMATION DIDN'T WORK
"It was totally sh-tty. We are quite terrible."
-- Steelers linebacker James Harrison, acknowledging the struggles of Pittsburgh's defense in recent weeks. (Aditi Kinkhabwala, NFL Network)
A NEW KIND OF DEFLATEGATE
"If I can get my hands on one of his balls, that will be huge. (pause) That didn't sound very good. Don't quote that"
-- San Francisco 49ers safety Eric Reid, getting a grip on the best way to stand a chance again New England Patriots quarterback Tom Brady when the two teams meet on Sunday. (Can Inman, The Mercury News)
GRAB THE… POPCORN
"We're open to doing things differently, but we also believe in the way that we do things… If I thought the incidents were running rampant, then I would respond accordingly. It's been popcorn. It's a global thing."
-- Steelers head coach Mike Tomlin, getting metaphorical as he looks to keep his team's 4-game losing skid in perspective. (ESPN)
…LIKE PLAY GOOD DEFENSE
"He is his own guy, and he does things I cannot coach."
-- Los Angeles Rams defensive coordinator Gregg Williams, acknowledging the talent of his All-Pro defensive tackle Aaron Donald. (Los Angeles Daily News)
STILL A DUMB PENALTY
"Perfect rugby style, nice hang time, good form… End-over-end, just a bomb into the stands. You can tell he's done it before."
-- Kansas City Chiefs punter Dustin Colquitt, critiquing the punting form of cornerback Marcus Peters, who was penalized for kicking the ball into the stands after a game-winning strip-fumble of Carolina Panthers wide receiver Kelvin Benjamin, as the Chiefs came back from a 17-0 deficit to beat the Panthers on Sunday. (Kansas City Star)
…WELL THAT ESCALATED QUICKLY
"For me to transition from punting to kicking, it would be hard… I can't kick to save my life… If I had to save my life, I'd have to fight the person."
-- Oakland Raiders punter Marquette King, discussing his inability to also handle kicking duties for the team, in light of Carolina Panthers kicker Graham Gano managing both roles for his side when punter Andy Lee went down on Sunday. It's unclear as to whether Gano had to fight anyone. (SB Nation)
ONLY INTERESTED IF THE KICKING TAKES PLACE DURING A FIGHT
"I would rather go to a circus, a carnival, a fair, or even a Medieval festival and watch cotton candy be made before I watch Justin Tucker and the other guy practice kicking in pregame to see the evolution of kicking."
-- Baltimore Ravens wide receiver Steve Smith Sr., admitting his lack of enthusiasm for the kicking game in the modern NFL. (BaltimoreRavens.com)
REVIS' RETIREMENT ISLAND
"Because I'm old."
-- New York Jets cornerback Darrelle Revis, admitting his limitations in light of his disappointing play this season. (New York Daily News)

PROBABLY JOKING BUT WHO KNOWS AT THIS POINT
"We're 2-1 when we don't score a touchdown. I don't know why you guys are making such a big deal that we're not scoring touchdowns."
-- Los Angeles Rams head coach Jeff Fisher, making his weekly appearance in this column with another inane comment about the Rams' offensive situation. (Joe Curley, Ventura County Star)
NEVER GET TIRED OF HEARING IT
"YEAH WE KNOW! LYNCH SHOULD HAVE RUN THE BALL"
-- Fan's sign seen on the final play of the Seattle Seahawks' 31-24 Sunday Night Football win over the New England Patriots, harking back to the last game between the two teams in Super Bowl XLIX in which the Seahawks famously failed to score on a game-ending goal-line series after electing to throw rather than put the ball in the hands of running back Marshawn Lynch. (Imgur)
OUCH
"Thanks Bill, we'll look for you 'gently' breaking it down on that hit show of yours."
-- NBC announcer Cris Collinsworth, lashing out at Bill Simmons and his cancelled "Any Given Wednesday" show, after Simmons "gently" Tweeted some critique of Collinsworth's in-game analysis of the Seahawks' offensive line during the Sunday Night Football broadcast. (Awful Announcing)
DO YOU KNOW WHAT A MEME IS THOUGH? BECAUSE YOU ARE ONE
"I don't even know what an emoji is."
-- ESPN color commentator Jon Gruden, being a luddite during the Monday Night Football game between the Cincinnati Bengals and New York Giants. (ESPN)
REVERSE DEFLATEGATE
"Our guys have bigger balls than their guys… Get the f-ck outta here!"
-- West Virginia head coach Dana Holgorsen, arguing with officials over a Texas Longhorns fumble, ruled out for WVU's coverage team being too close to Longhorns punt returner Jacorey Warrick. (Mike Finger, San Antonio Express News)

THE WORLD ACCORDING TO MIKE LEACH
"We'll just take deeper breaths."
-- Washington State Cougars head coach Mike Leach, outlining his strategy to help his players deal with the altitude as they head to Boulder to take on the Colorado Buffaloes on Saturday. (Aaron Levine, Q13 Fox)
SALTY PEPPER
"Before we get started, there is no Pepper Johnson questions. I'm not answering any questions… There's no questions for me, then I'm not answering any questions… Er, D-line questions, no Pepper Johnson questions.
Reporter: "No questions about you, but you'll answer questions about your guys?"
Johnson: No, the other way round."
-- New York Jets defensive line coach Pepper Johnson, bizarrely refusing to answer questions about either himself or his players… or something. (NJ.com)
FOUR OUT OF 13, NOT BAD
"Wow, well, you know a buddy of mine who was here, Bruce Gradkowski was over there. Goodness gracious, (Josh) McCown and RGIII recently and Colt McCoy. There have been a whole bunch of them that I have faced. I would love to look at the numbers of which quarterback I actually played the most because I feel like it was almost a different one every time."
-- Pittsburgh Steelers quarterback Ben Roethlisberger, playing "name the Cleveland quarterbacks," attempting to list all the Browns starters he has played against at the position over his career. (Fox 8 Cleveland)
COUSINS=RADAGAST, GOODELL=SAURON?
"That is pretty much Gandalf the White over there… That's a wizard. That's who he is, to me. Tom Brady is Gandalf the Grey and he's just an upper class of that. For me, that's the best of the best, man."
-- Washington cornerback Josh Norman, comparing Green Bay Packers quarterback Aaron Rodgers to Gandalf The White of J.R.R. Tolkien's Lord Of The Rings fantasy novels. (ESPN)
"He didn't say Gimli so I felt pretty good about that."
-- Rodgers, appreciating Norman's choice of character. (ESPN)
WEEK IN GIFS & PICS!
THE FANS HAVE SPOKEN: QBWINZ IS TRASH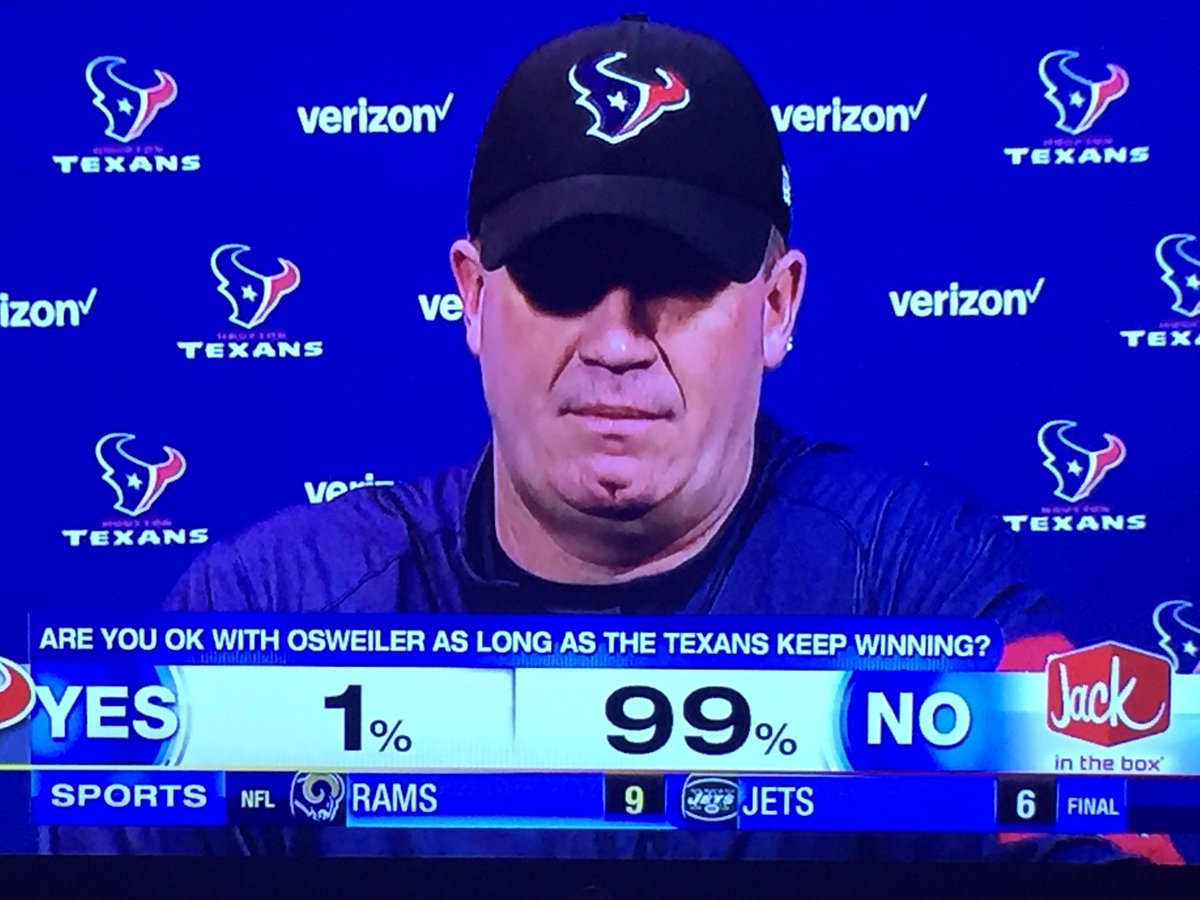 POSSIBLY A LATE HIT?
-- Philadelphia Eagles linebacker Najee Goode, delivering a slightly dirty hit to Atlanta Falcons punt returner Eric Weems during the fourth quarter of the Eagles' 24-15 win over the Falcons.
ONLY IN COLLEGE FOOTBALL, AND INDIANAPOLIS
-- Iowa Hawkeyes punter Ron Coluzzi, tripping over the turf on an attempted fake punt during the first quarter of the Hawkeyes' 14-13 upset of No. 3 Michigan.
"On that play, I thought I was on fire so I stop, drop, and rolled to put out the invisible fire."
-- Coluzzi, explaining just what happened out there. (Iowa Hawkeyes, Twitter)
D'AWWWW
-- Pittsburgh kicker Chris Blewitt (!), getting a peck on the cheek from coach Pat Narduzzi after missing a point-after attempt against Clemson. Apparently it was just the trick, as Blewitt came back to kick a game-winning 48-yard field goal to beat the Tigers.
MANNEQUIN CHALLENGE
-- Alabama Crimson Tide's offensive line, applying some "freeze technique" during the second quarter of the Tide's 51-3 win over Mississippi State last Saturday.
THE MOST ANNOYING THING YOU'LL HEAR ALL DAY
"Ooo-wee" is the new "You like that?!" (via @CSNRedskins)https://t.co/a9NRXuYFy9

— NFL on ESPN (@ESPNNFL) November 14, 2016
MANNING SLAP FACE
-- New York Giants quarterback Eli Manning, getting a friendly slap on the head from rookie wide receiver teammate Sterling Shepard during the Giants' 21-20 win over the Cincinnati Bengals.
7 comments, Last at 19 Nov 2016, 10:15pm by dbostedo