Most Recent FO Features
The question is not whether Saquon Barkley is the best running back in this draft class. The question is whether any running back, even one as good as Barkley, warrants a top-five draft selection in the NFL in 2018.
Most Recent Extra Points
04 Nov 2016
The Week In Quotes: November 4, 2016
by Rob Eves
WELL, THERE WERE SOME MISSED FIELD GOALS…
"I don't know how to react. I didn't know it was possible to tie. There was a tie last week, I was like, 'how the heck did they tie?'"
-- Washington head coach Jay Gruden, expressing disbelief at tying 27-27 with the Cincinnati Bengals at London's Wembley Stadium. (Mike Jones, Washington Post)
BLAME BREXIT
"You can't fathom the traffic in London until you're in it… They tell you that t's going to take you an hour to get from point A to point B. It's not going to take less than an hour, it might take more, but it's not going to take less. If they ever tell you it's going to take 20 minutes to get from here to there, forget it, it's going to take an hour. I think the average speed limit in central London is 4 miles an hour. That's just what it is. That's the average speed limit. It's crazy."
-- Bengals business manager Bill Connelly (not to be confused with FO alum Bill Connelly), discussing the pitfalls of London travel as the Bengals returned home from Wembley. (Cincinnati.com)
$3,000 CHEAPER THAN PRETENDING TO TAKE A PICTURE
"That's the best $9,115 I've ever spent. F-ck yo helmet!! #StraightCashHomie"
-- Buffalo Bills guard Richie Incognito, not regretting throwing a Miami Dolphins player's helmet near the end of their game a couple of Sundays ago, which led to a $9,115 league fine this week. (Twitter)
FINALLY HE CAN RETIRE HAPPY
"I want to give a shout out to my mom too, cos the first thing yesterday… we sat down, she came to my hotel, she goes, 'Rob, I'm so proud of you when you score your 69th touchdown.' (giggles)"
-- New England Patriots tight end Rob Gronkowski, still failing to keep a straight face after scoring his 69th career touchdown in the Patriots' 41-25 win over the Buffalo Bills. (Chad Amaral, Fox Boston)
THANKS UNCLE BILL!
"Hope everyone gets the candy they like and may there be plenty of leftovers."
-- Patriots head coach Bill Belichick, wishing us all a happy Halloween. (Mike Reiss, ESPN Boston)
NO DIVISION WINNER FOR AFC EAST
"In the division, I think it's unrealistic to win the division."
-- Buffalo Bills coach Rex Ryan, conceding that it might only be possible for the Bills to make the playoffs via wild card. (Joe Buscaglia, WKBW Buffalo)
NOTHIN' BUT A G THANG
"This is the G PODAWUND"
-- Dyslexic Cleveland Browns fans, showing support for their team in banner form during the Browns' 31-28 loss to the New York Jets. (Josh Jordan, Twitter)
MODEST TOO
"You took a 3-technique that was drafted in the first round and pulled him to outside linebacker and he held his own, that's just building up a résumé. That's just how I look at it… I think it'll give me more money…. I'm good at everything, but I'm great at 3-technique… I'm gonna just leave it at that."
-- New York Jets defensive end Sheldon Richardson, enjoying the opportunity to show his versatility on defense. (New York Post)

TRASH-TALK GAME STRONG, TASTELESS
"Don't like him. Not the kind of guy I'd hang out with. Ever since I told him I'd eat his kids, just hasn't been the same."
-- Denver Broncos defensive end Derek Wolfe, admitting to threatening to eat San Diego Chargers quarterback Philip Rivers' eight kids during the Broncos' 27-19 win over the Chargers last Sunday. (Vic Lombardi, Altitude TV)
THEY ALL SOUND DELICIOUS
"We had a little lamb, we had Peppa Pig, we had a chef, we had a Philip Rivers, we had Batman, we had like an '80s disco dancer, we had a rockstar and then the narwhal or something that was in the movie 'Elf?'… I think that's what it was called. Yeah, that was everybody."
-- Rivers, reciting the Halloween costumes of his eight kids this year. Yes, one of them did go as Philip Rivers. (Jim Wyatt, Titans Online)
WERE YOU SAYING 'BOO' OR 'BOO-URNS?'
"That was great and classy… I thought they were saying 'love Jim Harbaugh.'"
-- Michigan Wolverines coach Jim Harbaugh, appreciating Michigan State fans' "f-ck Jim Harbaugh" chants during the Wolverines' 32-23 win over their rivals. (Nick Baumgardner, MLive)
ENLIGHTENING ANALYSIS
"Well, we didn't make any plays… We didn't make any plays. They made them all. When it was our opportunity to make plays, they made all the plays."
-- Minnesota Vikings head coach Mike Zimmer, providing some unique insight into the team's 20-10 loss to the Chicago Bears on Monday night. (NBC Sports)
NOT SURE IF SARCASM
"Another reason why football better than baseball...if visiting team goes up SEVEN zero early in game, home crowd doesn't get demoralised."
-- Former NFL executive Joe Browne, taking an opportunity to slam baseball during Game 6 of the World Series, as the Chicago Cubs opened up a 7-0 lead over the Cleveland Indians by the third inning. (Joe Browne, Twitter)

YOU'RE ALLOWED TO MAKE TRADES?
"I thought it was next week? No?"
-- Green Bay Packers head coach Mike McCarthy, joking with reporters about the impending trade deadline on Wednesday. (Aaron Nagler, Packers News)
HOW DID DAK GET THAT HANDLE?
"Damn son, where'd you find that? I don't know why you're making Dak wear those shoes. Aww man, that's terrible."
-- Dallas Cowboys running back Ezekiel Elliott, ripping into the footwear choices of fellow rookie teammate, quarterback Dak "@dak" Prescott. (Ezekiel Elliott, Twitter
WEEK IN GIFS!
WHAT DID WE TELL YOU ABOUT HAVING FUN?
-- Seattle Seahawks safety Earl Thomas, showing the officials some much-needed love after returning a New Orleans Saints fumble for a touchdown during the Seahawks' 20-25 loss on Sunday.
"Just having fun, bro."
-- Thomas, explaining the gesture. (Bob Condotta, Seattle Times)
YOU DROPPED SOMETHING, GRONK
-- A wild sex toy appearing on the field during the Buffalo Bills' 41-25 loss to the New England Patriots.
"Yes I did, I did see it. I thought it was funny the ref didn't want to pick it up. He was kicking it. Nobody wanted to reach down and grab it. That was very unusual. That was a first. Only in Buffalo."
-- Patriots quarterback Tom Brady, answering only the most pressing questions in his post-game press conference. (SB Nation)
RATINGS PROBLEMS SOLVED
-- The Indianapolis Colts, inventing a solution to make football great again as the NFL struggles with declining TV ratings.
READ MY LIPS
-- Florida State head coach Jimbo Fisher, sharing some kind words with an official after Seminoles fullback Freddie Stevenson was flagged for an illegal block, negating a big run during the team's 34-37 loss to Clemson last Saturday.
NEIN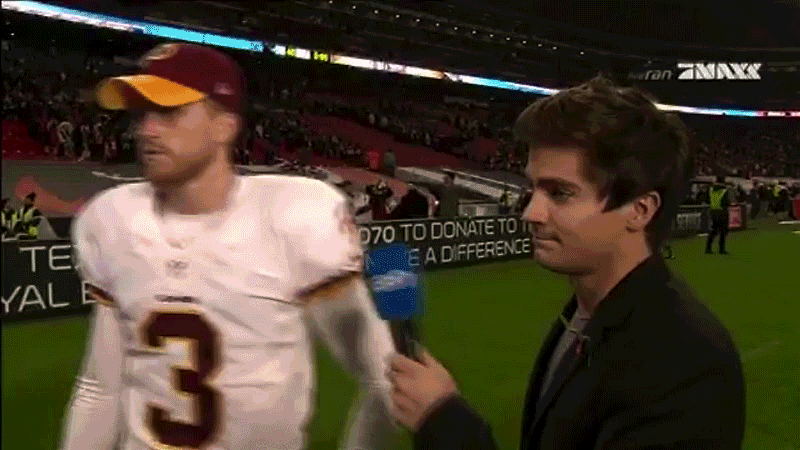 -- Washington PR man Tony Wyllie, shutting down an interview between a German reporter and Washington's kicker, Dustin Hopkins, who had just missed a game-winning field goal attempt as the team tied 27-27 with the Cincinnati Bengals at Wembley.
*DOINK*
-- Chicago Bears wide receiver Alshon Jeffery, paying the price for a miscommunication with quarterback Jay Cutler in the second quarter of the Bears' 20-10 win over the Minnesota Vikings.
11 comments, Last at 07 Nov 2016, 11:59am by bravehoptoad