Most Recent FO Features
Defenses have taken a wide variety of responses to the rise of 11 personnel. Is any one system better than another? And how has the rise of the "moneybacker" changed defensive philosophy?
Most Recent Extra Points
05 May 2017
The Month In Quotes: April 2017
by Rob Eves
A STAR IS BORN
"I told her before she passed away I was going to live my dream, I was going to go D-1, I was going to get out of Richmond, I was going to get out of Oakland. I was going to go to the NFL. I made that promise to her, man. 30 seconds later she passed away. And this is who I do it for, man. Come on man. Get to the damn quarterback. We gonna get to the quarterback!… It means everything, man. It means everything. I made a promise to her… I was going to live my dreams to play in the NFL. And I'm here man. I completed the promise. It means every-f*cking-thing to me. Excuse my language! Man, FINE ME LATER MAN."
-- Former UCLA defensive end Takkarist McKinley, announcing his arrival in the NFL after being drafted 26th overall by the Atlanta Falcons. (NFL Network)
WELP
"If you don't draft me No. 1, I will punish your team for the next 10 to 12 years. I'll knock your QB out of the game every time we play you, and I'll have to kick the hell out of No. 1, whoever it is.
-- Cleveland Browns defensive end Myles Garrett, making threats to the team prior to being drafted No. 1 overall in the 2017 NFL draft. (ESPN)
UNQUESTIONABLY ONE OF THE MOST IMPORTANT PEOPLE IN HISTORY
"The guy who invented Reese's Peanut Butter Cups (Harry Burnett 'H.B.' Reese). A genius. That's my favorite candy. I eat that like it ain't nothing."
-- Tennessee Titans cornerback Adoree Jackon, answering the team's questions about which living or historical figure he would most like to meet after being drafted in the first round of the 2017 NFL draft. (ESPN)
CANNON CHECKDOWNS
"It's going to be awesome getting to learn from a guy like Alex Smith."
-- New Kansas City Chiefs quarterback Patrick Mahomes, looking forward to sitting behind incumbent Alex "ALEX" Smith. (NFL.com)
NO TRUER WORDS SPOKEN
"We have complete confidence in Alex Smith, we love Alex Smith here… The only issue is that we're all getting a little older. Unfortunately this happens in life."
-- Chiefs head coach Andy Reid, justifying Mahomes' selection as a move to begin planning for life after Smith. (NBC Sports)
MODEST TOO
"No one else game-plans the way I do. No one else prepares the way I do. No one else knows football the way I do. No one else is as big as I am. No one else is as powerful a runner as I am…. No one else can do what I can do. And I've truly figured out in this process, if I can maximize all my potential in every aspect of the game -- this is bold -- I do have the ability to be the greatest quarterback to ever play. Imagine taking (Tom) Brady's intellect and Brady's preparation and putting it on a guy with Cam Newton's body. Why can't I be the greatest?"
-- New Cleveland Browns quarterback DeShone Kizer, feeling confident shortly before the 2017 NFL draft. (USA Today)
IS IT A COINCIDENCE THESE ARE ALL BROWNS PICKS?
"Call me what you want, but I will EAT regardless no matter the situation or circumstance. That's just how I'm CUT! That's on BIG BRO"
-- Former Michigan safety Jabrill Peppers, dismissing former NFL quarterback Chris Simms' assessment of him as "overrated." Peppers was also drafted by the Cleveland Browns. (USA Today)
WOULD YOU ARGUE WITH HIM?
"I don't have any guesses, but if it's a linebacker I'm going to change it."
-- Carolina Panthers linebacker Thomas Davis, speaking before announcing the Panthers' first-round pick in the 2017 NFL draft. (Carolina Panthers, Twitter)
*INAUDIBLE THROUGH BOOING*
"I wanna thank the Eagles fans for allowing me to have a career in the NFL. Thank you. I am honored as an undrafted free agent to be selected to make the Cowboys' second-round draft pick. And on behalf of the five-time world champion Dallas Cowboys; Hall of Fame owner Jerry Jones; Gene Jones and the Jones family; coach Jason Garrett; all the Cowboys players that played before me, that played with me, that played after me; with the … 60th pick in the second round, the Dallas Cowboys select, defensive back from Colorado, Chidobe Awuzie!"
-- Former Dallas Cowboys wide receiver Drew Pearson, antagonizing the Philadelphia fan base assembled for the 2017 NFL draft, prior to announcing the Cowboys' second-round selection. (NFL Network).
JUST AS WELL
"We want him to play football. We don't want him to do our taxes."
-- New York Giants general manager Jerry Reese, answering questions about second-round draft pick defensive tackle Dalvin Tomlinson and his degree in financial planning. (MMQB)
CHARGERS MARKETING DEPARTMENT MOST IMPROVED UNIT 2017
"The opportunity to partner with Lamps Plus before my rookie NFL season, especially with my last name, is the perfect scenario… I'm confident that my girlfriend Natosha and I will have the best-decorated and most well-lit rookie home in our new team city!"
-- Los Angeles Chargers offensive lineman and marketing genius Forrest Lamp, announcing his partnership with L.A.-based lighting retailer Lamps Plus. (NBC Sports)
"We'd teach him a bang-8 route, a seven-step post, and we'd only have to show him on film once… he was good at it because  --  really --  he's just good at life."
-- Stanford offensive coordinator Mike Bloomgren, praising the receiving versatility of newly drafted Carolina Panthers running back Christian McCaffrey. (The Ringer)
I'M SURE HE WOULD IF HE COULD
"I'm kind of on the black side of things right now, with the perception of my persona… It's hard to fight the fans… I have to show that Greg Hardy is not a f*cking psychopath. And I say f*cking because it's that extreme."
-- Disgraced former NFL defensive end Greg Hardy, setting out to earn his way back onto an NFL roster after a series of off-field incidents led to the Dallas Cowboys to decide against resigning him after the 2015 season. (Bleacher Report)
UNLIKE A CERTAIN ALABAMA COACH WHO SHALL REMAIN NAMELESS
"I'm not really big on humiliating assistant coaches in front of everybody."
-- Florida Atlantic head coach Lane Kiffin, taking a swipe at his former superior, Alabama head coach Nick Saban, after a number of notorious sideline spats between the two during Kiffin's time as Alabama's offensive coordinator. (NBC Sports)
SOME/MOST
"Jerry is really personable. I mean, you've got to like Jerry Jones. If you're around him, you've got to like him, unless you hate the Dallas Cowboys, which some people do."
-- Wade Phillips, sharing his thoughts on Dallas Cowboys owner Jerry Jones in an extract of his newly-released autobiography, "Son Of Bum." (Deadspin
THE MONTH IN GIFS, PICS AND TWEETS
FINE ME LATER
Codeine ready to support the @AtlantaFalcons #RiseUp #inbrotherhood pic.twitter.com/SQeORq4bjb

— Takkarist McKinley (@Takk) May 2, 2017
-- New Atlanta Falcons defensive end Takkarist McKinley, showing off his… interestingly named dog. (Takkarist McKinley, Twitter)
*NOT PHOTOSHOPPED*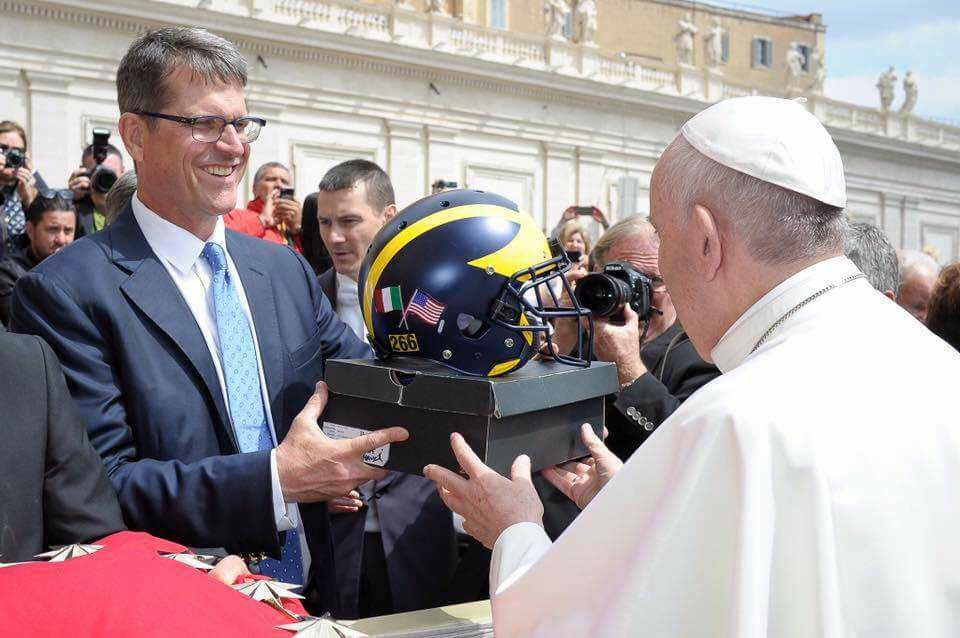 -- Michigan head coach Jim Harbaugh, presenting Pope Francis with a Wolverines helmet in Vatican City.
COULDN'T WAIT TO FLEECE THE BEARS
Advice from all my new GM friends? "Get some rest, it's a marathon." Yea right! I've been up since 3:30 AM. Let's do this already!

— John Lynch (@JohnLynch49ers) April 27, 2017
-- San Francisco 49ers rookie general manager John Lynch, getting excited for his first NFL draft. (John Lynch, Twitter)
2017'S ALL-BEST NAME ROOKIE CLASS
-- The Cleveland Browns, Detroit Lions, and Miami Dolphins, all selecting A-plus names in the second round of the 2017 NFL draft. (NFL.com)
CHOICE WORDS
-- NFL Network, offering a useful description of Ole Miss quarterback Chad Kelly, who in 2014 threatened to shoot up a nightclub during a spat with a bouncer. (NFL Network)
USE THE FORCE ROBERTO, LET GO
#MayThe4thBeWithYou#SiegetheDay pic.twitter.com/JWdsYsVqG8

— Tampa Bay Buccaneers (@TBBuccaneers) May 4, 2017
-- The Tampa Bay Buccaneers, celebrating May 4, a.k.a. Star Wars Day. (Tampa Bay Buccaneers, Twitter)
THE HAPPIEST ANY JETS FAN WILL BE THIS YEAR
Shoot your shot. pic.twitter.com/oIBmy1CyGB

— New York Jets (@nyjets) April 30, 2017
-- The New York Jets, acknowledging a fan who may or may not have influenced their selection of LSU safety Jamal Adams at No. 6 overall in the 2017 NFL draft. (New York Jets, Twitter)
AND FINALLY, A FUN ONE…
-- San Jose State running backs coach Alonzo Carter, dancing to M.C. Hammer's "U Can't Touch This" during the team's spring football practices. Carter actually worked as a dancer and choreographer for M.C. Hammer and appears in the video for "U Can't Touch This." (houseofhilights, Instagram)
24 comments, Last at 09 May 2017, 8:02pm by mehllageman56