Most Recent FO Features
The question is not whether Saquon Barkley is the best running back in this draft class. The question is whether any running back, even one as good as Barkley, warrants a top-five draft selection in the NFL in 2018.
Most Recent Extra Points
13 Jan 2017
The Week In Quotes: January 13, 2017
by Rob Eves
CAN'T PLAY THE NINERS EVERY WEEK
"I prefer to play against a terrible team, because it makes the game a lot easier"
-- Seattle Seahawks defensive end Michael Bennett, not relishing the prospect of playing against the Atlanta Falcons and their no. 2 ranked DVOA offense. (Gregg Bell, The News Tribune)
MVP TALK
"We created some big plays with (Earl Thomas) in the lineup, too."
-- Falcons quarterback Matt Ryan, feeling confident about the Falcons' ability to put up some big plays against the Seahawks, who are without injured safety Earl Thomas. (ESPN)
CONTINUING THE FINE TRADITION OF INSANE RAIDERS COACHES
"Can you smell it! Can you taste it!"
-- Oakland Raiders head coach Jack Del Rio, getting fired up on the field before the Raiders' wild-card game against the Houston Texans, which they lost 14-27. (James Palmer, NFL Network)
CURRENTLY SITTING AT PLUS-15
"What does (the betting line) matter?… You know what I mean? What does that matter? The only thing that matters is what takes place in between the lines on Saturday night. No, I don't really go too much to the Vegas betting line. I don't think that would be really a good motivation tool this week."
-- Houston Texans coach Bill O'Brien, not using the Texans' status as heavy underdogs going into their divisional game against the New England Patriots as additional motivational fodder. (NBC)
TEXANS WIN CONFIRMED
"I think last night we saw a game in Alabama-Clemson, these so-called experts had Clemson as the underdog. In '07, the experts had the New York Giants as underdogs. Both of those teams went on to win -- the Super Bowl (Giants) and national championship (Clemson). So it goes to show you what these experts know."
-- Texans and former Patriots nose tackle Vince Wilfork, unfazed by what the betting market says about his team's chances. (ESPN)
BRACE YOURSELF, DRAFT SEASON IS COMING
"On film, you'll give him a B-plus. On film, he's a late-first, early second… The analogy I've been using is if you're making a great beef stew, there's more to it that just the steak and potatoes. If you just did the steak and potatoes, it would be a crappy stew. That's the talent part of the quarterback. It's all the other stuff. It's the spices, the carrots, the onions. It's the exact blend of it all that makes it a great stew. Same with quarterback. For him, he has off the charts, A-plus, he's a ten in the intangible category… I think he's a top ten pick."
-- ESPN "analyst" and former Baltimore Ravens quarterback Trent Dilfer, getting excited about draft-eligible Clemson quarterback Deshaun Watson, who led the aforementioned underdog Tigers to a national championship on Monday. (Kevin Jones, KNBR)
THE MOST INTELLIGENT THING HE'S EVER SAID
"It's a delay of game, he takes so long."
-- Former NFL quarterback and CBS color-cretin Phil Simms, describing the patient running style of Pittsburgh Steelers running back Le'veon Bell during the broadcast of the Steelers' wild card win over the Miami Dolphins. (CBS)
LIKE THAT'S A GOOD THING?
"There's not really a guy like me out here doing it with 7 1/2 fingers."
-- New York Giants defensive end Jason Pierre-Paul, not planning on signing a one-year "prove it" deal with the team as he heads into free agency this offseason. (Kimberley A. Martin, Newsday Sports)
…AND ANOTHER LUCKY STREAK INTO THE PLAYOFFS
"Three games away. That's how close we are."
-- Miami Dolphins owner Stephen Ross, sensing his team's closeness to winning a Super Bowl following their playoff elimination to the Pittsburgh Steelers this past weekend. (Miami Herald)
FOR NON-AARON RODGERS FANTASY OWNERS, YES
"It must be a scary sight to watch us right now."
-- Green Bay Packers wide receiver Randall Cobb, feeling good about the team's current hot streak. (MMQB)
YARDS AFTER CONTACT
"Someone once T-boned me when he was 7. He grabbed his helmet and pads... jumped outta my car and ran to football practice. He's a tough kid!"
-- Dawn Elliot, mother of Dallas Cowboys running back Ezekiel, recalling the time her son almost missed practice (Dawn Elliot, Twitter)
A LIKELY STORY
"Well I heard it was a great game, I have it TiVo'ed… I fell asleep, but I heard it was an incredible game."
-- Michigan coach Jim Harbaugh, claiming to have missed the college national championship game between Alabama and Clemson, in order to distract his enemies from the fact that he was intently watching and beginning to formulate game plans for next season. (ESPN)
THE OL' WHISPER-SHOUT
"We wish you to stay on the field for many years with no injuries, to hold Lombardi Trophy in your hands couple of times more, and to put on a gold jacket in Canton afterwards… Could you please tell your teammates that when they take the CenturyLink Field or any other field, they are supported not only by those who came to the stadium, we are also with you – watching games live on the Internet. And we are also shouting, but that is more like whisper-shout because when you play on Sunday evening, it is already the middle of working Monday in the east of Russia, and 3 a.m. in the West – so we just don't want to wake our families up shouting too loud."
-- A collective of Russian NFL fans, addressing Seattle Seahawks safety Earl Thomas, to whom they recently gifted a fur hat. (Seattle Times)
WEEK IN GIFS, PICS & TWEETS
4-12 NONSENSE
Rams team officials are unable to get out of Boston, where they interviewed Josh McDaniels, in time to meet with Shanahan in ATL

— Jason La Canfora (@JasonLaCanfora) January 8, 2017
-- The Los Angeles Rams, carrying on their streak of organizational incompetence.
PICTURES + CAPTIONS ≠ MEMES
-- NBC's Sunday Night Football broadcast, misunderstanding the concept of memes.
NOW THIS IS A MEME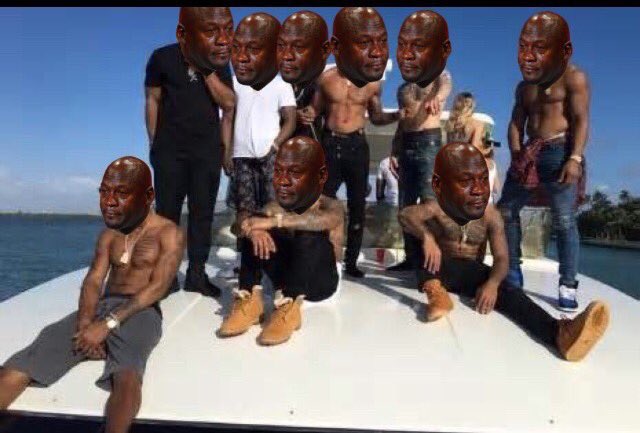 -- New York Giants wide receivers, partying on a boat in Miami last week, which was the sole cause of the team's wild-card loss to the Green Bay Packers.
WAS HE ON THE BOAT TOO?
-- Giants safety Eric Pinkins and Packers running back Christine Michael, celebrating an unsuccessful 29-yard Giants punt together.
*NOT ACTUALLY PEYTON MANNING*
Hey @JimIrsay - You can block us on twitter, but they will leave things on the doorstep... pic.twitter.com/1Ew5vsRfqW

— Faux Peyton Manning (@FeuxPManning) January 6, 2017
-- Fans of the Indianapolis Colts, leaving a message for team management regarding their inability to build around quarterback Andrew Luck.
THIS IS FINE
-- The San Diego Los Angeles Chargers, losing 45,000 fans from their Facebook page in response to news of their relocation.
14 comments, Last at 25 Jan 2017, 9:34am by nickd46