Most Recent FO Features
The question is not whether Saquon Barkley is the best running back in this draft class. The question is whether any running back, even one as good as Barkley, warrants a top-five draft selection in the NFL in 2018.
Most Recent Extra Points
27 Jan 2017
The Week In Quotes: January 27, 2017
by Rob Eves
MUST BE NICE
"We're going to the Super Bowl, man. Sh-t."
-- New England Patriots quarterback Tom Brady, giving a very genuine post-game reaction to winning the AFC Championship against the Pittsburgh Steelers. (Joon Lee, Bleacher Report)
IN ATLANTA, CLEARLY
"WHERE IS ROGER?!"
-- Patriots fans, taunting the absent NFL commissioner Roger Goodell during the AFC Championship Game. Goodell did not show up in Foxborough this postseason. (SB Nation)
EVERYBODY WINS
"As much as I'd like to see my buddy (Alex Mack) win a super bowl, I would sure love to see (Roger Goodell) have to hand a trophy to Brady!"
-- Cleveland Browns offensive tackle Joe Thomas, rooting for Atlanta Falcons center and former teammate Alex Mack in the upcoming Super Bowl, but happy to accept the consolation prize of an embarrassed league commissioner. (Joe Thomas, Twitter)
EVERY SINGLE TIME
"I couldn't really tell you what would have worked because we didn't do it… Man coverage probably would have worked, just to limit the time that he had to run their routes, and the pressure would have hit home."
-- Pittsburgh Steelers cornerback Artie Burns, second-guessing the Steelers' defensive tactics against the Patriots. (Trib Live)
NO QUESTION ABOUT THAT
"I stand by my statement. If the NFL wants my money, they can have it."
-- Kansas City Chiefs tight end Travis Kelce, refusing to retract his comments about referee Carl Cheffers, who officiated the Chiefs' divisional round loss to the Pittsburgh Steelers. Kelce was fined $12,500 for his comments. (ESPN)
TRANSLATION: SIGN SOME PLAYERS PLEASE TED
"We've just got to make sure we're going all-in every year to win. And I think we can take a big step this offseason."
-- Green Bay Packers quarterback Aaron Rodgers, probably throwing a shot at general manager Ted Thompson and his "hands-off" approach to free agency. (ESPN)
*BIAS DETECTOR EXPLODES*
"I'm not being biased because I play for the Cowboys, but I think we're the only team that had a shot to beat the Falcons."
-- Dallas Cowboys wide receiver Dez Bryant, feeling good about the team's chances to have halted the Atlanta Falcons' Super Bowl run, if only they hadn't lost themselves to the Packers in the divisional round. (Bleacher Report, Twitter)
THE FIRST TWO GAVE IT AWAY
"I'm drunk, I'm stupid, I'm a Pats fan"
-- New England Patriots fan Dennis Harrison, making a statement to police after being arrested for deliberately setting off the fire alarm at the Pittsburgh Steelers hotel the night before the AFC Championship Game. (Chris Villani, Boston Herald)
*COUGH* SKIP BAYLESS *COUGH*
"Media plays a gigantic role in our sport. There's just too many dumbs fanboys/girls in the profession right now, not all, but a lot."
-- Indianapolis Colts punter Pat McAfee, throwing some shade on the sports media. (Pat McAfee, Twitter)
"Thank God."
-- McAfee, capturing the collective mood of Colts Nation as it was announced that general manager Ryan Grigson had been fired. (Pat McAfee, Twitter)
MORE RUB-INS FOR SAN DIEGO FANS
"Coach Lynn, I am so excited for you. Not only will you be coaching in the most magnificent arena in the world, you'll actually have a replay screen that is actually large enough to see the replay."
-- Los Angeles Rams COO Kevin Demoff, addressing new L.A. Chargers head coach Anthony Lynn at a public introduction in Inglewood, California, the site of the Rams' new facility set to open in 2019, where the Chargers will also play as tenants. (Los Angeles Sentinel)
HAVE YOU LEARNED NOTHING?
"I don't know if that should be the retribution… I don't know what the course should be. But I think that's a bit harsh."
-- Seattle Seahawks cornerback Richard Sherman, believing it would be a bit harsh for the NFL to dock the Seahawks a draft pick for failing to report his knee injury suffered towards the end of the season. (ESPN)
EVER SEEN THEM IN THE SAME ROOM TOGETHER?
"I'm just telling you, if they pass on Deshaun Watson, they're passing on Michael Jordan. I'm just telling you."
-- Clemson Tigers head coach Dabo Swinney, comparing his draft-eligible former quarterback Deshaun Watson to NBA Hall of Fame member Michael Jordan. (ESPN)
I'LL HAVE WHATEVER HE'S ON
"Almost by every barometer, the quality of the game is better on Thursday night."
-- The universally detested Goodell, needing to recalibrate whatever barometers the league is using to measure the quality of games. (Fox Sports)
GIFS, PICS & TWEETS
GOD FORGIVES, SAN DIEGO DOESN'T
-- Church sign in Fallbrook, San Diego, condemning the Chargers franchise to hell. (Reddit)
INSERT JOKE ABOUT PUMPING SILENCE
Next door to the Georgia Dome, there's a librarian convention going on. They are gonna be PISSED.

— Tom Pelissero (@TomPelissero) January 22, 2017
-- Atlanta librarians, making a poor decision as to where to host their convention when the NFC Championship Game is being played at the Georgia Dome.
BENNETT VS. BLANK DANCE-OFF PLEASE
Marty B just wants to dance with somebody (: @NFL) pic.twitter.com/bXg3FJtlNP https://t.co/oFBNqEniGx

— SB Nation NFL (@SBNationNFL) January 23, 2017
-- New England Patriots tight end Martellus Bennett, celebrating the Patriots' AFC Championship victory alongside the team's cheerleaders.
NOT SURE IF ILL-ADVISED JOKE OR JUST SLOPPY MARKETING
The work begins tonight in our football factory. #WilsonFootball #SB51 #Falcons #Patriots pic.twitter.com/gNMeR4sFbj

— Wilson Football (@Wilson_Football) January 23, 2017
-- Wilson Football, provider of the NFL's official game balls, alluding to Deflategate as they begin their marketing run-up to Super Bowl LI.
MELTS UNDER PRESSURE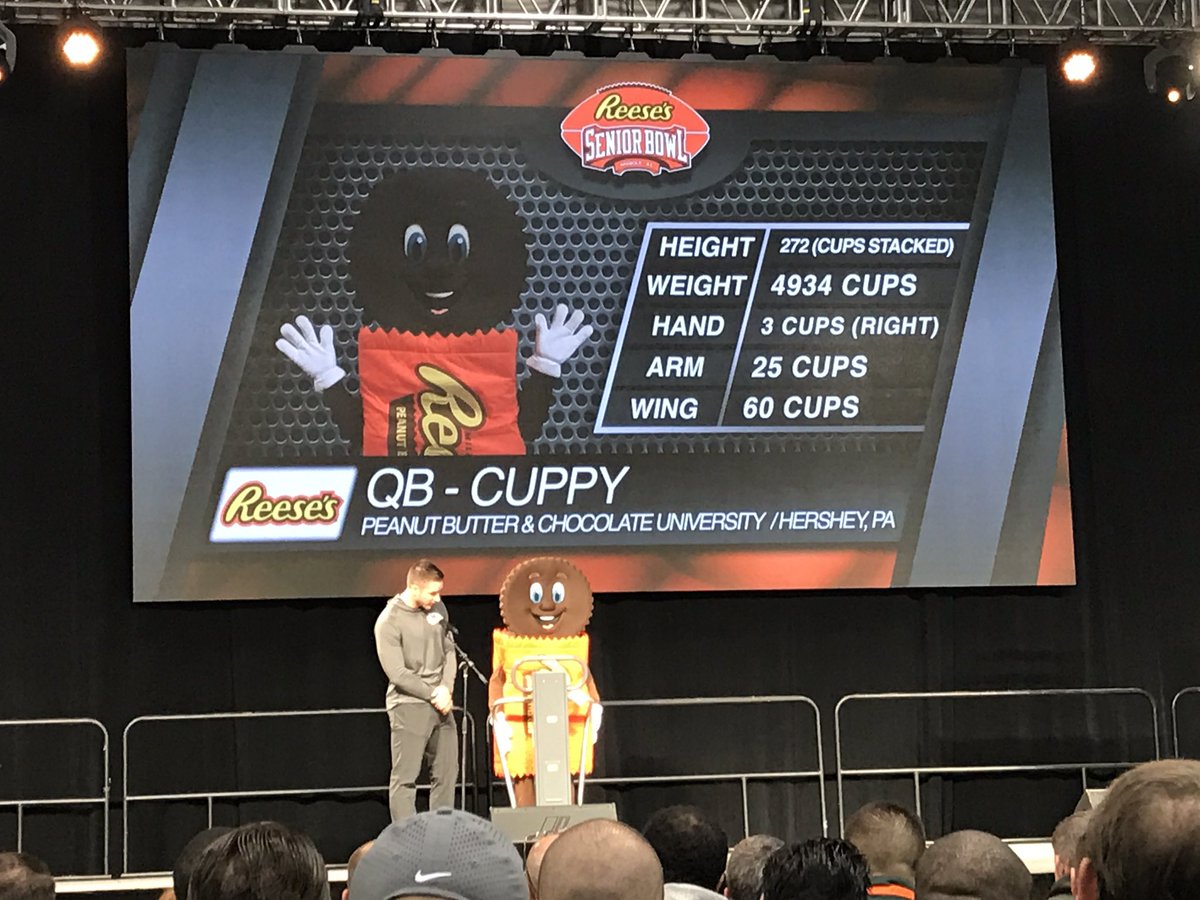 -- Peanut Butter & Chocolate University quarterback prospect Cuppy, reportedly the current favorite of the Cleveland Browns picking at No. 1 overall, undergoing his weigh-in at the Senior Bowl.
17 comments, Last at 30 Jan 2017, 4:37pm by OldFox