Photo: USA Today Sports Images
by Dave Bernreuther and Vincent Verhei
Vince: Around the compass we go! Having covered the southern divisions in both the AFC and NFC, we move to the West Coast (and Missouri), harkening back to the days of the AFL. The Broncos, Chargers, Chiefs, and Raiders franchises each started in the American Football League's inaugural season in 1960. A half-century later, the Chiefs and Raiders still look largely the same, while the Broncos have been using the same basic design for more than 20 years themselves. The Chargers, meanwhile, have worn about as many different uniform combinations as any other team in the league -- who knew there was so much you could do with a lightning bolt motif?
DENVER BRONCOS
(All graphics appear courtesy of GridironUniforms.com.)
Vince: A good example here of not knowing what you've got till it's gone. When the Broncos redesigned their uniforms in 1997, the big Nike swoops down the sides were innovative, the stylized horsehead logo was a big improvement over the old snorting stallion inside a capital D, and there was still enough orange that the infusion of yet more navy blue into the NFL didn't bother me. And of course the Broncos immediately began to win Super Bowls, ensuring those uniforms would be around for a long time. But after two decades of this getup, I look back at the John Elway uniforms -- royal blue instead of yet another navy team, strong contrast with the bright orange jersey, more traditional and subtle striping -- and I get nostalgic. The good old days weren't necessarily always good, but I'd be more than happy to see Denver go back to the old uniforms.
But keep the new logo. I still think that's an upgrade.
Dave: I'm with you. When they made the change I liked the color update and the logo. I've never been on board with the stripes, which have always looked like parentheses, though, and whenever they go unitard in the navy it looks really bad. I was grateful that they switched back to the orange jersey more frequently in recent years, although the all-orange Color Rush jobs can go straight in the trash. Otherwise, they have stayed remarkably consistent in their look, which is refreshing given that so many teams cave to the temptation of going through uniform combinations the way John Elway goes through quarterbacks.
The Broncos are another example of a team that is badly hurt by the rule that you have to wear the same helmet shell for throwbacks, because the old logo -- which I agree does look dated -- just looks strange on navy. The league really needs to get rid of that rule. The helmets now are so much safer than they were before, and surely just as modular, that I'm sure the equipment managers could re-use the inner gels and whatnot and ensure the same fit from helmet to helmet. This is all ostensibly about safety, but I've never heard of any evidence that it's less safe to wear a newer helmet. And by that logic, the Oregon Ducks would be at a hugely inflated concussion risk. Tom Brady switched his helmet last year too, as did several players who switched teams or needed replacements. It's dumb. It's the illusion of safety. Give us back the Pat Patriot, Bucco Bruce, and light blue Denver D helmets for throwbacks once a year please, NFL.
Anyway, this current set is really not terrible, but given the strength of their division-mates, they're still a distant last place in the West. I'm curious to see what an artist could come up with for a subtle refresh. Perhaps with some striping and coloring reminiscent of the 1966-era duds with the orange helmet. Those look dated, sure, but throw the new logo on that helmet and modernize the striping -- but not too much -- and I think the result could look really good.
Vince: Actually, on the subject of cool throwbacks you don't see very often, how about the mid-'60s look with the orange jerseys with the blue sleeves? I'd stick with a blue helmet, and keep that terrible bucking bronco cartoon in the past, but the jerseys themselves are cool and unique without being overdone, I think.
Dave: So like what they wore in the pre-season of 1967 then … Hmm. That could work too, although I did definitely have an orange helmet (and possibly orange pants) in mind. I'd love to see a set of mockups for both, as my idea could be too much orange.
KANSAS CITY CHIEFS
Dave: Red and yellow are not the colors I'd choose if they let me draw up an expansion team, and white pants with white jerseys can be a bit boring, but that's really the only bad thing I can say about the Chiefs, who have looked the same since 1963 except for some very minor striping changes to the sleeves and the socks in 1967. That's 55 years now, and I don't see any reason not to keep it up for 55 more. They look fantastic. Even their ketchup bottle color rush look is relatively inoffensive. (Let's call it the least-worst.) Plus we get to make Kool-Aid Man jokes about their coach. The sock stripes are the cherry on top. I love them. They even looked great with two shoulder patches in 2009. This is the perfect example of how keeping it old, simple, and classy is never a bad idea.
Vince: Agreed on pretty much all fronts. The color scheme is uncommon in the league, the uniforms are clean and distinctive, the logo is sharp. I have mentioned that I'm not a believer in tradition for tradition's sake, but the Chiefs are a good example of a team that has never made big changes because no changes have been needed. Are they my favorite uniforms in the league? No. Do I have anything in mind that would make them better? Also no.
LOS ANGELES CHARGERS
Vince: You forget how many times the Chargers have changed uniforms until you look at them all at once. I count six distinct uniform sets in 58 years of football -- about one new uniform each decade since they started in L.A. (no, not San Diego!) in 1960. The current white-helmet uniform with occasional cameos of a powder-blue jersey have been around since 2007, so by their own historical standards they're due for some new threads. Maybe they'll pull that off when they move to their new stadium with the Rams in 2020. I'll go ahead and repeat myself here and say that the Chargers, like the Broncos, should go back to what they used to wear. I have never been a fan of the white helmets for the Chargers, and the Junior Seau-era uniforms had better use of the lightning bolts on the shoulders, running vertically instead of horizontally.
Dave: Hmm. I disagree rather strongly here.
Whereas Kansas City is a perfect example of keeping the old, I think this Chargers set is as good a modern take on history as can be. They were indecisive about their yellows and blues through the first half of their history, but once they ironed it out in the mid-'80s with the navy helmets, they definitely looked good. I have no complaints at all about that set, other than that they could have had some better sock striping. Everyone loved the powder-blue throwbacks when they started wearing them again though, and with good reason, but they still looked rather dated with the grey facemasks and the helmet numbers. Still, they were as big a hit as any jersey could possibly have been. Popular demand being what it was, they decided to integrate that color again full-time, and I really think they nailed it. I think it's the perfect way to have three non-white colors, they don't do anything foolish with the pants or combinations (bad Color Rush excluded from that statement, as are most), and both the modern powder blues and the navy look great at home. You're right about the shoulder stripes, but the horizontal style is at least still good with the current sleeveless jerseys. I'm not a fan of putting words above the front numbers, but theirs is small and subtle, so it's not terrible. Color Rush aside, I think they look great every time they step on the field, regardless of which set they choose. The Chiefs are among the best of the old school, and the Chargers are among the best of the new.
So yeah, they'll probably change it up for the new stadium in 2020 and screw it up, just like they did with the logo that managed to rip off both the Dodgers and the Tampa Bay Lightning … or by moving to L.A. in the first place.
Vince: Well, lookee what rolled off the wire just as we were putting this together:
you're welcome. pic.twitter.com/CSLCALd289

— Los Angeles Chargers (@Chargers) April 16, 2019
This will be the first season in my 43 years on this planet the Chargers will wear the powder blues as their primary jersey. I'd imagine the navy blues will still show up for a night game or something (and they'll probably use the royal blues again too, I guess, because of course they will), but by and large it looks like popular opinion has won out. I'm not as big a fan as most people are, but I will say that the NFL has too many teams in navy blue, and it will be easy to pick the Chargers out from the crowd on Sundays this season.
Dave: The yellow facemasks may be a mistake, though. Navy as the accent color makes more sense, and yellow might look a little weird. That one may take a bit of time to get used to. I guess it's not bad in that video, but I still think navy was the right choice. I do like that there's some history there, though. Apparently they were the first team to wear a colored face mask, with yellow in 1974. I did not know that.
Vince: Ooh, that's a good catch. They did wear navy facemasks with the powder blues last year (against Oakland, for example). My gut says the yellow facemasks will match better with the yellow bolts on the helmet. You can see them at the end of the video they tweeted out and they look good, but as always, I will reserve final judgment on that until we see them in action on the field.
Dave: The article says they'll be yellow with the white, powder, and ROYAL blue, which tells us two things: the stupid blue color rush ones will probably still appear, and that they'll still match navy facemasks to navy jerseys, which makes sense. I have already warmed to the yellow with the powder blues.
OAKLAND RAIDERS
Dave: Speaking of teams with histories of dumb relocations and Los Angeles, the Raiders would be this division's other example of "don't mess with success." Don't mess with the Silver and Black. Sure, they could do more with stripes or borders and brighten some silver in the numbers. Nobody would complain if they switched back to the silver numbers with the black outline that was in their 2017 Color Rush set, which was also non-terrible by virtue of being white over white, but there's really no reason to touch it at all. Even without any stripes whatsoever, the Silver and Black looks great. It's such a classic that even Nike can't screw it up. Like a black suit, it will never go out of style.
Vince: I know, right? It's the Raiders. It's pro football's most transcendent uniform. Your mom might not watch a single football game all year, but she'll recognize the Raiders on sight. There are miniscule tweaks I would make if I were a football god -- the silver numbers are sometimes hard to read on the black jerseys, and would be more legible with the changes you suggested, or if the numbers were white with a silver border. And I agree, the silver numbers on the white jerseys are awesome. But this is one where any change more substantial than that would likely be met with such a powerful national backlash that it wouldn't be worth it. The creative artist in me sees the move to Las Vegas as a chance to incorporate a once-a-year jersey with neon piping on the sleeves or something, but I know I'm probably the only one -- as in, literally, the one human on the planet -- who would even consider such a thing.
And yes, "Las Vegas Raiders" is going to sound weird for a long time, even though we will have had several years to get used to the idea. I suspect the Raiders are the most loved NFL team in Los Angeles right now -- seems to me they should be sharing a home with the Rams with the Chargers moving to the desert.
Dave: I'd rather see the Chargers back in San Diego where they were than in Vegas, but I agree about the Raiders. Even with the Rams having just made the Super Bowl, I'd bet it's still close to a 50-50 split in apparel between the Raiders and Rams. And even if that guess is high, it's a good example of why the way that whole situation was botched for and by everyone involved.
Anyway, you mention neon piping. And there's actually one situation where I'd agree with you: October.
For over a decade now, the NFL -- the same league that puts a person on the sideline to walk around and issue fines if your jersey comes untucked or your knee sticks out above the sock and that has several other anti-fun rules in place with regard to uniforms -- has done the breast cancer awareness thing in the month of October, allowing players to add pink to their cleats, gloves, and towels.
On a team like the Colts, whose colors are only blue and white, this still ends up looking fine: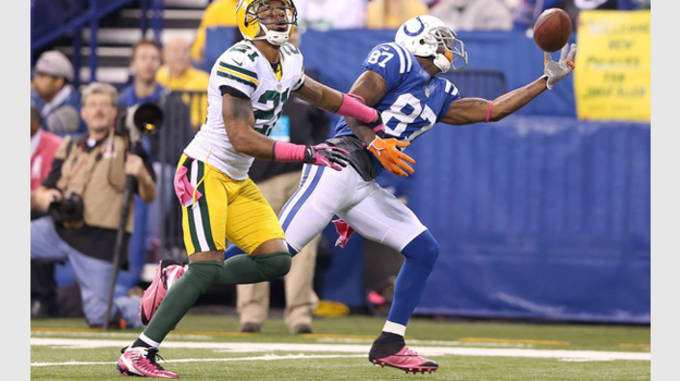 But for the most part it looks terrible. Not only because it varies so much from player to player, but because it clashes HORRIBLY with most color sets, such as the green and yellow shown in that same image. How well it fits in with other color schemes -- the Seahawks and their neon, the orange of the Bengals and Browns, etc. -- is open to interpretation, but I've yet to meet someone who considers the overall look any better than "pretty bad."
I have never understood why a league that goes to such lengths to legislate … um, uniformity in the uniforms would then drop everything for an entire month and let teams run around in an inconsistent application of a clashing color. (Oh wait, I know why; They get paid for it.) But I have always had a much better idea for how they could do this: Let teams change the actual uniforms.
Now, in most cases, this would still look really bad. But imagine if, for one game, the Seahawks replaced the neon green stripes and accents with neon pink. Or the Colts added pink borders to their numbers and stripes. Or the Patriots/Giants/Bills/Texans/Titans/whoever replaced their red accents with pink. The Dolphins could do it instead of their orange and match the new Marlins for a game or two. And, as you mention, the Las Vegas Raiders could pair it with the silver and black.
Changing the color scheme for a cause isn't even unprecedented; bet you didn't know that the 1976 Cowboys switched their helmet stripes to red, white, and blue for the bicentennial, for example. They could sell the game-worn and authentic replica jerseys, keep the theme in place, help raise awareness, AND look better (but again, still pretty bad) while doing so. Pink-accented jerseys might even be a hit with a new demographic. Everyone would win.
They could even take this a step further -- and this is where I think the league has really dropped the ball -- by using pink instead of orange on the sidelines for the yard markers, the goal-line pylons, and the sticks. That wouldn't even interrupt our viewing experience as fans. It fits the theme and would be as inoffensive as pink can possibly be. It makes way too much sense. This needs to happen.
Vince: It's funny. I was going to talk about this in our AFC South piece but I felt it was long enough anyway, but since you mentioned it here: one of my most extreme uniform opinions is that the Colts are the only team whose uniforms actually improve with the use of pink. I don't think they need to go full Miami Heat and break out a pink jersey, but it contrasts so strongly with the royal blue and white, without clashing. And it would add a border to the numbers, which I always prefer. I seriously doubt we'll ever actually see that, but I do think it would look cool.
Dave: "Improve" isn't the word I'd use, but they definitely look the best with it, and if the league is going to continue to scatter pink all over the month of October, that would be a much more uniform way to do it.