The Week In Quotes: December 2, 2016
The Week In Quotes: December 2, 2016
Photo: USA Today Sports Images
by Rob Eves
UP YOURS, BEN McADOO!
"I don't really like to look at stats, but DVOA is a stat that I look at seriously… and I think they were ranked No. 1, and we were ranked No. 2. That tells you just how efficient both teams are. So we knew coming in that it was going to be a battle, and we had to play at a high level."
-- Seattle Seahawks wide receiver Doug Baldwin, bigging up FO. (ESPN)
NEVER TELL ME THE ODDS
"The what now? What the hell is that? I mean, you can take those advanced websites and metric them in whatever you want. I don't know. I have no idea. I've never looked at one. I wouldn't even care to look at one. I don't care what they say."
-- New England Patriots head coach Bill Belichick, dismissing the usefulness of advanced statistics. (NESN)
HIGH STANDARDS
"He did a really good job. No delay of games."
-- Los Angeles Rams head coach Jeff Fisher, praising the performance of rookie quarterback Jared Goff in his first start against the Miami Dolphins. Goff passed for 134 yards on 31 attempts as the Rams lost, 14-10. (ESPN)
LASERS, MIKE
"That was kind of weird… I saw that and I thought I was in the Twilight Zone."
-- Oakland Raiders defensive end Khalil Mack, expressing disbelief at lasers being pointed on the field by fans during the Raiders' 27-20 win over the Houston Texans on Monday Night Football in Mexico City. (East Bay Times)
RUNNING OUT OF 'SHOTS FIRED' HEADERS
"Better tell Washington to get their money back."
-- Dallas Cowboys wide receiver Dez Bryant, rubbing the Cowboys' 31-26 Thanksgiving win over Washington in the face of $75 million cornerback Josh Norman. (Mike Doocy, Fox 4 News)
AS ABOVE
"I guess karma gets you. Doesn't look like they are going to the playoffs this year.''
-- Seattle Seahawks cornerback Richard Sherman, smugly remarking on Caronlina Panthers quarterback Cam Newton stealing the Seahawks fans' "12" flag when the two teams met in the divisional round of the 2015 playoffs, as the two teams get set for this week's rematch. (Bob Condotta, Seattle Times)
COULDN'T BLAME TAMME
"My wife is over here asking why I can't get as wide open as Jason Witten… smh I don't know babe…"
-- Atlanta Falcons tight end Jacob Tamme, enjoying the Dallas Cowboys' Thanksgiving game with his family. (Jacob Tamme, Twitter)
OUR LORD AND SAVIOUR
"We're spreading it out more and more with fewer good teams, which makes it doggone impossible to have good games. If the games aren't good, that's part of it. Now there are other things: the Millenials, iPhone, and the stuff people do as they live differently… Something has to be done about Thursday Night Football. It just doesn't work. It's not only a fan thing, it's a team thing. It's a safety thing. It's a competitive thing. It doesn't work. I know about money, and I know about business. Maybe you have to tweak stuff a little more. To help teams, maybe you get a bye the week before."
-- Former NFL head coach and announcer John Madden, denouncing Thursday Night Football. (Awful Announcing)
DON'T MAKE 'EM LIKE THEY USED TO
"That broken finger of Carr has gotten into his head. I dislocated a finger and I was ready to chop it off to show nothing can get in my way."
-- Former NFL linebacker Bill Romanowski, accusing Oakland Raiders quarterback Derek Carr of being a little soft after injuring the pinkie on his throwing hand and briefly leaving the game during the Raiders' 35-32 win over the Carolina Panthers on Sunday. (Bill Romanowski, Twitter)

DOES HE EVER?
"We wanted to make sure Gregg Williams didn't come back and have a good time."
-- New Orleans Saints running back Mark Ingram, enjoying the Saints' 49-21 demolition of the Los Angeles Rams and their defensive coordinator Gregg Williams, formerly of the Saints during the 2012 "bountygate" scandal. (ESPN Radio)
NEEDS A METRIC
"I think 96 percent of all percentages are made up on the spot… but I think probably 96 percent of all kicks that hit an upright don't go in."
-- Kansas City Chiefs kicker Cairo Santos, acknowledging his fortunate bounce off the uprights for his game-winning overtime field goal kick against the Denver Broncos. (Kansas City Star)
AT LEAST THEY WON'T GET TO DO IT ON NATIONAL TV NEXT YEAR
"We just keep finding a way to screw it up for ourselves."
-- Cincinnati Bengals left tackle Andrew Whitworth, lamenting the Bengals' 3-7-1 record as he comes to terms with probably missing the playoffs for the first time since 2010. (Bengals.com)
RYANISM
"He's got to poop or get off the pot, so to speak."
-- Buffalo Bills head coach Rex Ryan, saying… something, which could be either positive or negative, about second-year wide receiver Dez Lewis. (Joe Buscaglia, Twitter)
*CRINGE*
Tucker: "Can you smell that? Smells like updog."
Reporter: "What's updog?"
Tucker: "Nothing much man, what's up with you?"
-- Baltimore Ravens kicker Justin Tucker, pranking reporters to open his press conference following his team's 19-14 win over the Cincinnati Bengals. (ESPN)

NEW CAR, CAVIAR…
"To be honest, anybody who's going to give me some money."
-- Texas Longhorns running back D'Onta Foreman, describing his preferred NFL franchise as the junior announced his decision to enter the 2017 NFL draft this week. (Jeff Howe, CBS Sport)
…FOUR STAR DAYDREAM...
"I have no regrets… They gave me a lot of money in two years. I have no grudge, no nothing against those guys."
-- Baltimore Ravens wide receiver Mike Wallace, expressing his gratitude towards the Miami Dolphins, with whom he signed a $60 million contract in 2013, ahead of the game between the two teams this Sunday. (Miami Herald)
…THINK I'LL BUY ME A FOOTBALL TEAM
"Well I'll say this, not only are you see him gaining when they got that pursuit coming after him, you see him run by a secondary player and then when he puts that stiff-arm (out) you quit worrying about him a little bit… He's the daddy when he does that."
-- Dallas Cowboys owner Jerry Jones, praising the scrambling abilities or rookie quarterback phenom Dak Prescott. (Star Telegram)
"I don't know what that means… I have no kids. Don't want any."
-- Prescott, dismissing Jones' comments. (Star Telegram)
#PERSPECTIVE
"We're a great university, we still beat Michigan."
-- Ohio State University staff member and terror attack victim Professor William Clark, showing courage in the face of adversity following Monday's knife attack on the school. (Eleven Warriors)
THE WEEK IN GIFS & PICS!
YET MORE INJURIES
…ENHANCE!
-- Minnesota Vikings defensive tackle Linval Joseph, taking out a sound assistant during the team's pre-game entrance of their 30-24 week 11 victory over the Arizona Cardinals.
SICK MOVES
Slowly, it began to sink in for #Redskins owner Dan Snyder that he was dancing like nobody was watching...but everybody was watching. pic.twitter.com/PtrTQFJKJg

— Charles Robinson (@CharlesRobinson) November 21, 2016
DELAY OF GAME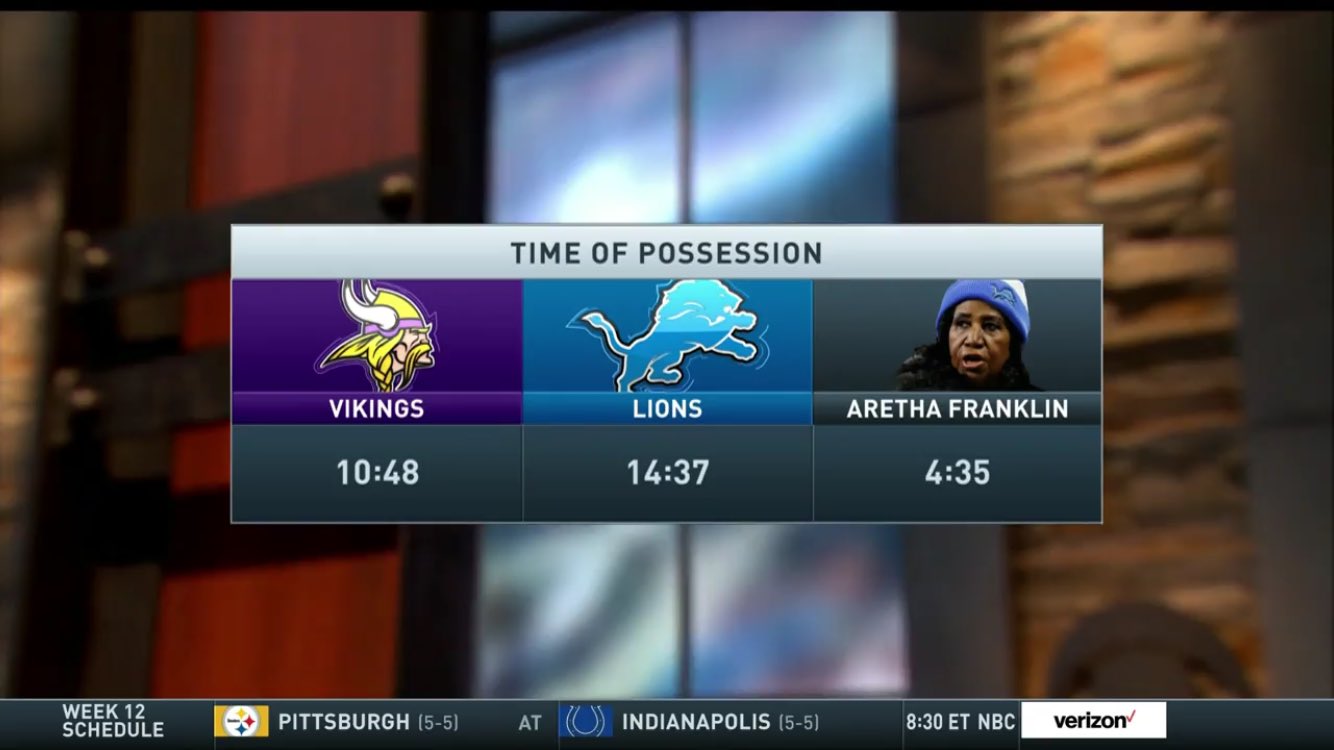 -- CBS Sports, mocking celebrating Motown soul legend Aretha Franklin's 4-minute rendition of "The Star-Spangled Banner" to open the Thanksgiving tilt between the Detroit Lions and the Minnesota Vikings.
MAKING HIS WAY TO THE RING…
-- Dallas Cowboys wide receiver Dez Bryant, impersonating UFC lightweight champion Conor McGregor's impersonation of WWE CEO Vince McMahon's trademark strut during the Cowboy's 31-26 Thanksgiving win over Washington
NEVER CHANGE, JIM
-- Michigan Wolverines head coach Jim Harbaugh, displaying his usual sideline shenanigans during Michigan's controversial 30-27 loss to Big Ten rivals Ohio State.
THE 2016 CHICAGO BEARS PERFECTLY SUMMARIZED IN THREE SECONDS
Sorry about your butt, sir pic.twitter.com/hjoyPCumq0

— SB Nation GIF (@SBNationGIF) November 27, 2016